Aruba Easter Celebrations and Activities
Cuaresma is the local name for the Lent period. Fasting is a customary practice for devout Catholics during Lent. Some will abstain from food for an entire day; others take only one meal per day, while others abstain from all food until 3PM. This practice is carried out for the full Cuaresma (Lent - 40 days) period. The most common practice, eating fish for lunch or dinner, takes place on Wednesdays and Fridays. Even fast food restaurants such as: McDonalds, Wendy's, Subway, etc. observe the importance of Cuaresma (Lent) on Aruba by increasing their seafood selections and stock to cater to the fervent devotees.

On the Sunday before Easter, many celebrate Palm Sunday. Recalling the entrance of Jesus into Jerusalem, the churches distribute palm leaves in remembrance of the people who waved them and carpeted his path with them. One of the things you can do with these palm leaves is to fold them into crosses. It is a great decoration for the home and a way to bring blessings.
View a full list of Easter activities and specials here.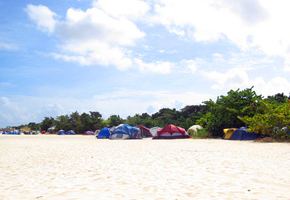 Although Lent is observed by many on Aruba, what truly matters for most Arubans during the Holy Week is "beach camping". "Beach camping" has been taking place for decades. Even before the first hotel was built, Arubans celebrated Cuaresma (Lent) by living as one with the peaceful nature of the beach. Considering kids have their Easter vacation as well, most workers ask for a week vacation so they can enjoy the beach with their entire family. You will even see many boaters anchored close to shore camped out on their yachts. There are many activities taking place on the beach during this week such as: beach tennis, soccer competitions, live local band performances, and radio personalities interviewing and entertaining the happy campers.


Another tradition is a procession called "Caminda di Cruz" (The Path of the Cross). The procession will take place by the crosses placed along the road to the Alto Vista Chapel.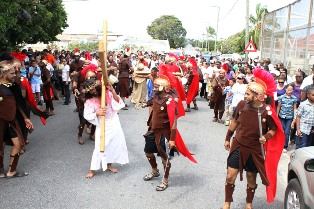 The annual event commences at diverse times, start  times depend on the worship group that is guiding the specific 'Caminda di Cruz' event. Some groups start their walk to the 'Kapel di Alto Vista' (*how the locals reference the chapel) as early as 4.00 AM on Good Friday. While there are others that commence their march the evening before at 11.00 PM.

Most businesses and stores are closed on Good Friday, Easter Sunday and on Easter Monday. Restaurants in the hotel area will remain open and some of the stores in the new malls in Palm Beach will also remain open. It is advisable to get the basic necessities such as: bread, cheese, milk and eggs early, because those always run out of stock during the week thanks to the campers.

Easter on Aruba has become - for a few decades now -  one of the most important holiday seasons. It includes Egg hunting, mass on Easter Sunday, Easter breakfast, Easter Brunch, Beach Camping, BBQ-ing in the backyard, community gatherings, family get-togethers, and much more.

If you are planning to attend church on Easter Sunday there will be a mass given in English at the St. Anna church in Noord at 11:00 am. After mass there are many fun activities available at the malls in Palm Beach and Oranjestad; for the kids mainly egg hunting, face painting, picture taking with favorite cartoon characters and just lots of fun.
There are also various other fun and festive EASTER WEEKEND activities available all around the island. Click here to explore the many 'Easter in Aruba' happenings!


Something to keep in mind when driving around on Easter Sunday is that there are well-attended Easter Egg hunts. Drivers are prone to focus on one place at a time, and this could affect traffic in some areas.

For more tips on holidays visit our page - "What to expect when traveling to Aruba during public holidays". 

There is always a lot going on and it's also fun to mingle with the locals during these celebrations to get a feel of how Arubans celebrate Easter.