When it comes to planning a vacation, choosing the right accommodation to fit your needs and 'vaca dreams' is of utmost importance! To help you out, we've put together a brief guide to provide you with an overview of the different resort and accommodation options in Aruba.
High-rise Hotels & Resorts
Palm Beach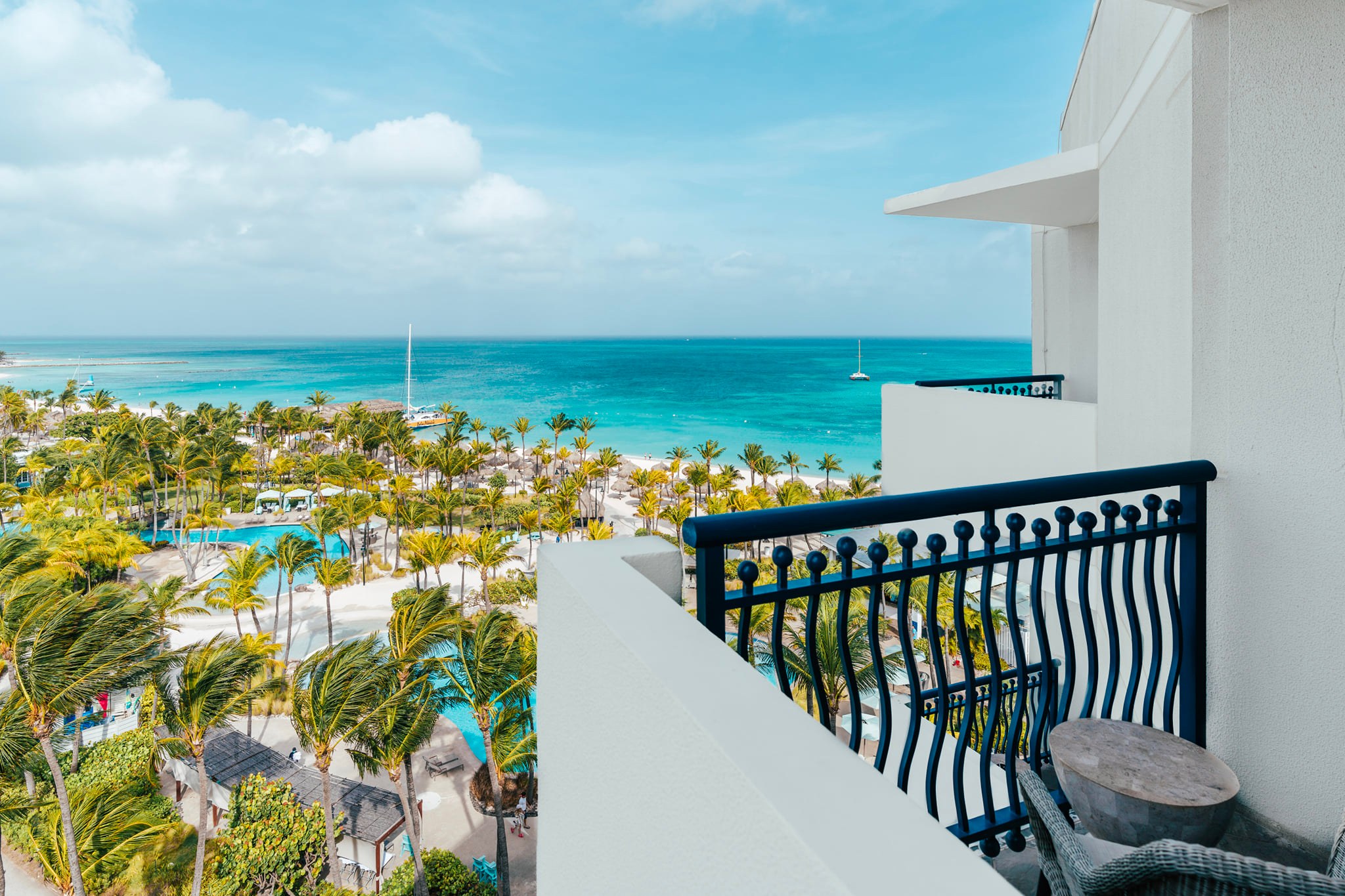 Palm Beach is a two-mile strip known for its white sand and turquoise water. Looking for a little action and fun? This place is filled with it but don't worry there is still room for plenty of relaxation!  The high-rise resorts are located beachfront, all nearly beside each other, allowing for plenty of interaction and socializing, let's just say you are bound to leave with a new friend or two once your vacation comes to an end!
It's a popular hangout for tourists (and locals), there is a long sidewalk that runs along the strip making it a great place for a walk with a view. Both young and old, from couples to families, will find everything they need. The beach and surrounding area include beach bars, restaurants, shops, and watersports companies.
Hilton Aruba Caribbean Resort & Casino
Downtown Oranjestad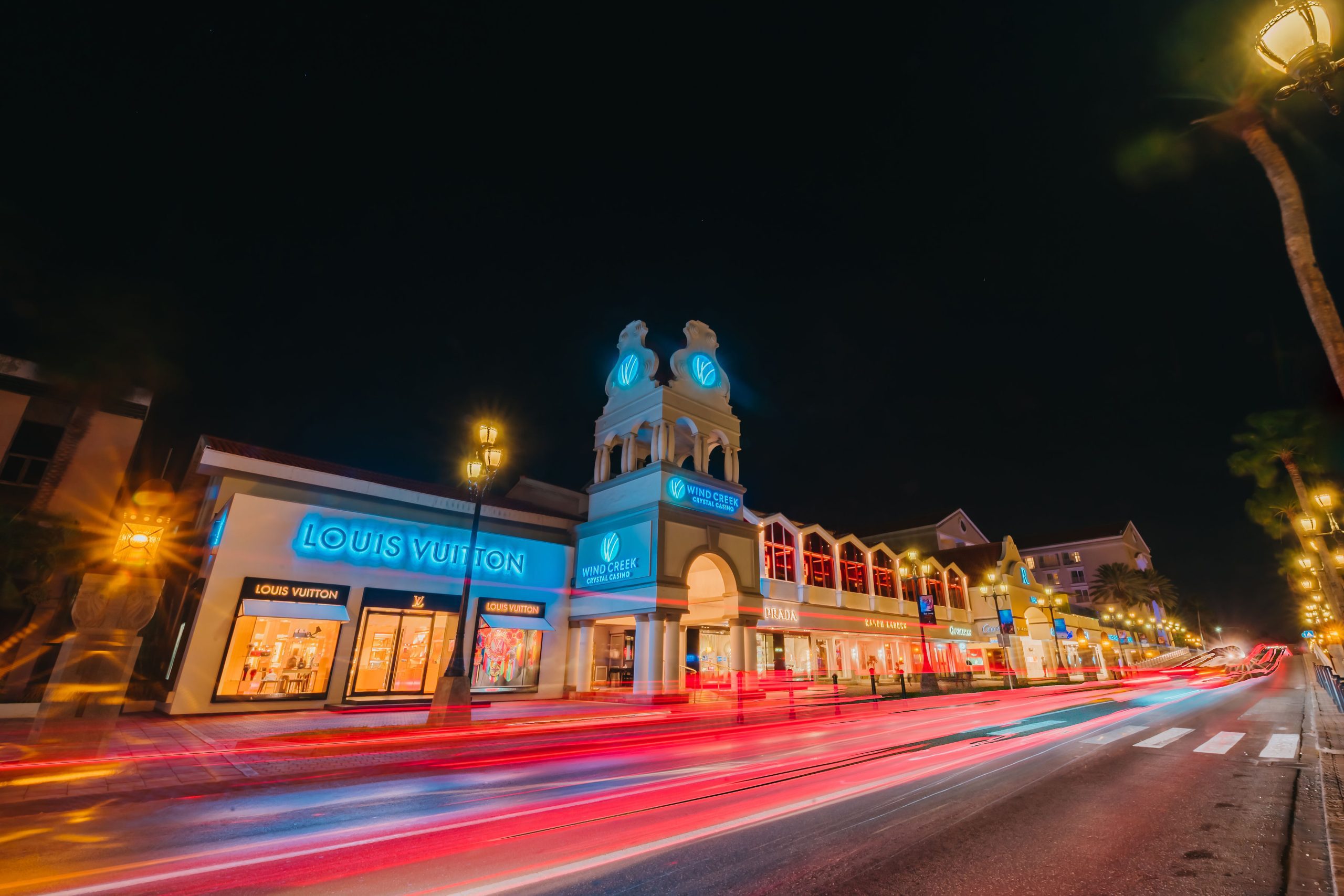 Want to veer away from the hotel area? Head to Oranjestad for exciting and vibrant Caribbean downtown vibes. The downtown scene surely won't disappoint when it comes to your vacation standards, there is plenty of shopping and dining to be done here! Just across from the marina you will find Renaissance Wind Creek Aruba Resort, this resort is comprised of two different towers, the marina resort (adults-only) and ocean suites resort (family-friendly). Both have access to the one and only Renaissance Private Island, home to our famous pink flamingo friends!
Renaissance Wind Creek Aruba Resort
Want to maximize your Aruba resort experience and enjoy the ultimate relaxation and convenience you deserve? Book an all-inclusive package!
Browse all-inclusive resorts in Aruba.
Low-rise Hotels & Resorts
Eagle Beach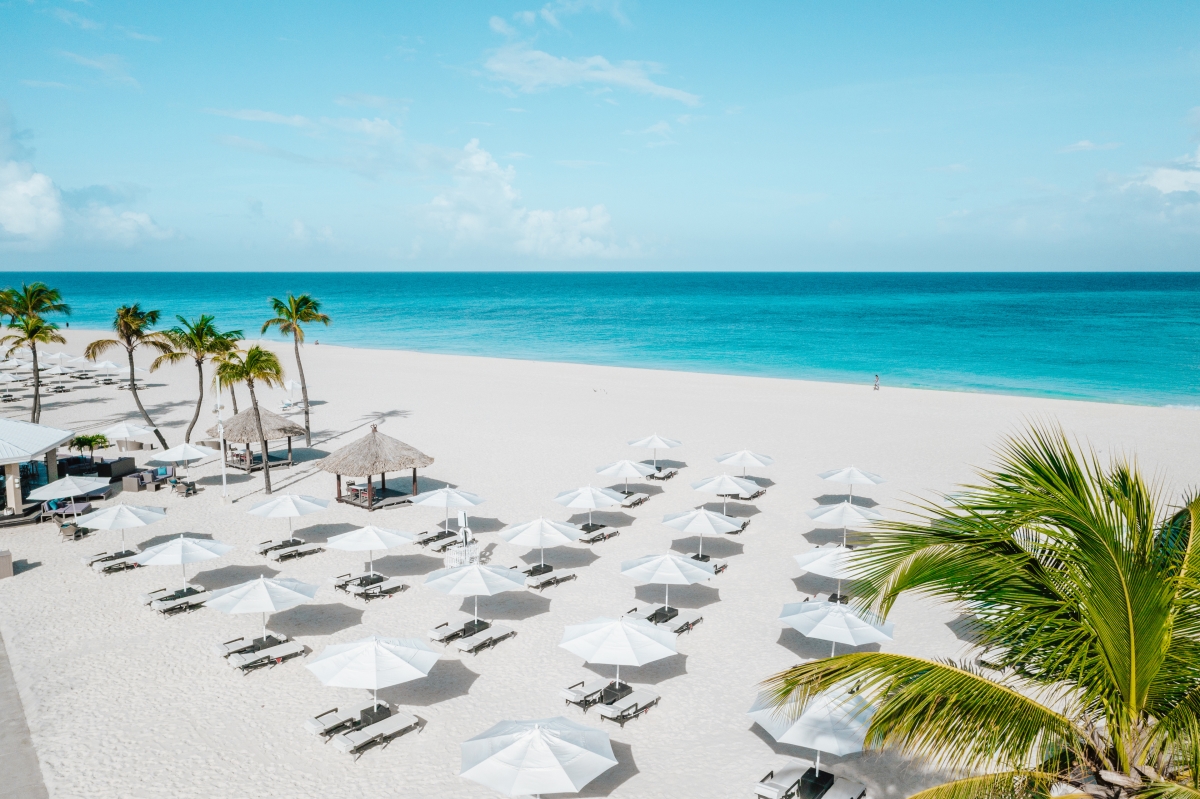 What more can we say? Eagle Beach is… simply perfection. You very well may have already heard of this beach, as it is one of the top-rated beaches in the world, time and time again! A wide, spacious beach with plenty of palapas and some shaded tree areas to plop down under to spend the day relaxing. With the soft white sand and nice open water conditions, if you prefer a bit more space and seclusion, the low-rise resort area is the one for you. Planning a honeymoon or romantic getaway? Yep, this is the place.
Browse more Aruba hotels and resorts.
Small Apartment Resorts and Boutique Hotels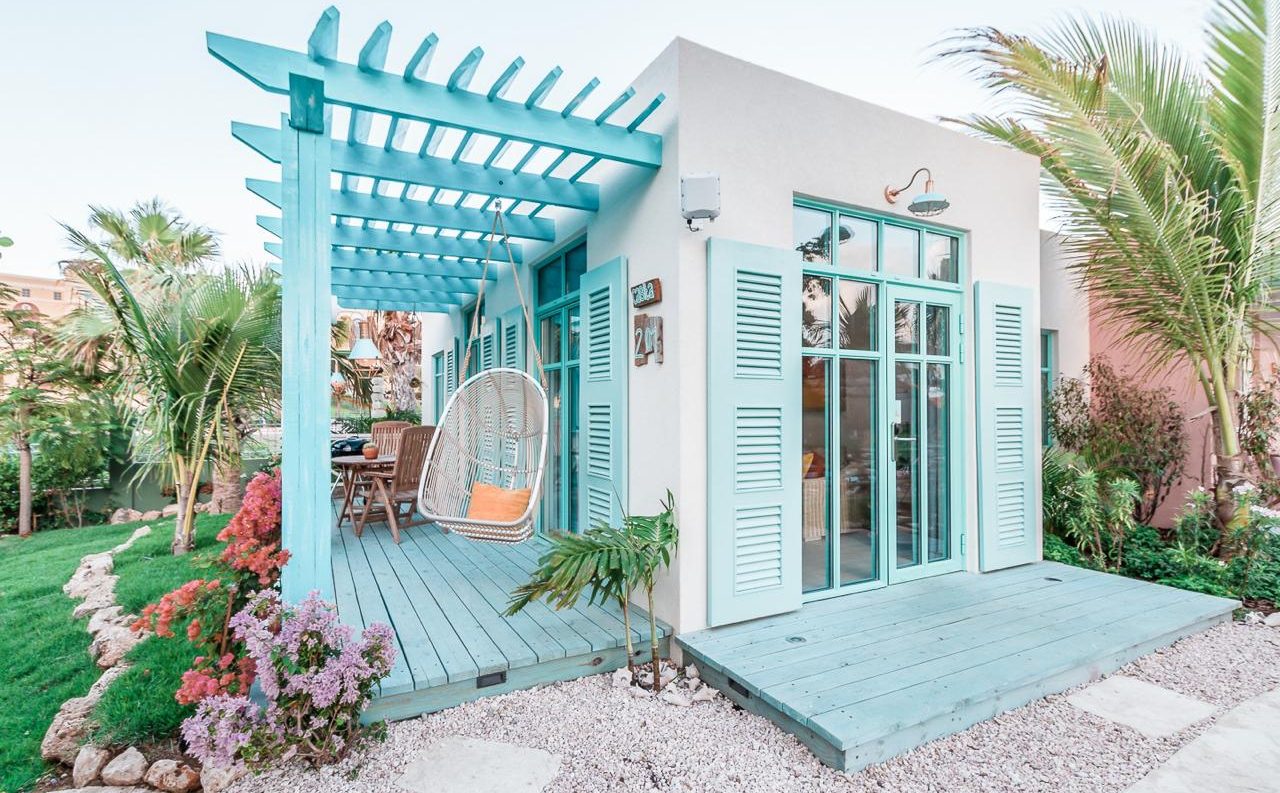 Small Apartment Resorts and Boutique Hotels have a lot to offer and make for a very unique, intimate and experience-filled stay. As a smaller accommodation on the island, they often offer a selection of personalized things to do when it comes to sightseeing, activities, dining, and some out-of-the-box activities. Staff is likely to offer something different to each guest, catering to your specific interests and needs, as well as to what the island has to offer at that time of year. In addition, many apartment resorts are a bit friendlier when it comes to pricing compared to other resorts. If you are a traveler who has "get more bang for your buck" at the top of your list, this accommodation type is the right choice for you. Lastly, you will find each property has a beautiful and unique design like none other!
Camacuri Residence & Apartments
Vacation Rentals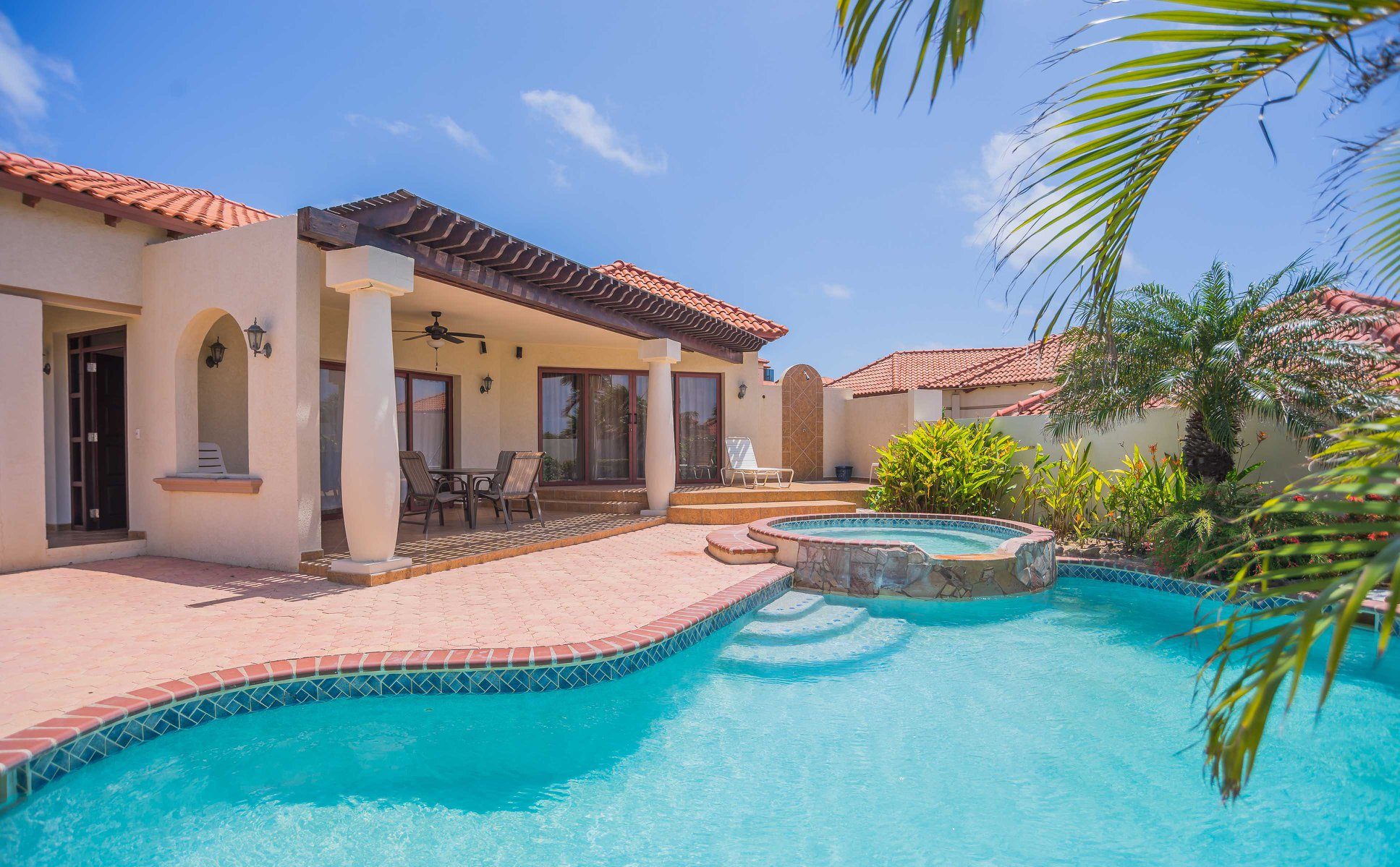 There are plenty of apartments, condos, houses, and villas to rent all throughout the island, contact a local vacation rental company or check out Airbnb for extensive options to experience life on the island like a true local! This is a particularly good option for large groups or families seeking a budget-friendly stay.
Browse more accommodations in Aruba and start planning your escape today.