To dine or not to dine at Hilton Aruba's famed Sunset Grille? If you are considering whether or not to add Sunset Grille to your Aruba dining list, please, think no more and put it at the top of your list!
I had the opportunity to experience Sunset Grille's new food and wine pairing, which was just recently unveiled for the Fall season, with my friend and colleague, Airany. I could end my story here, with "it was everything and more, now… go find out for yourself"but I would never do that to you! I'm a true, passionate foodie and that's not what true foodies do! I will reveal all you want and need to know. From the flavors to the presentation to the magical ambiance, and more!
So, are you ready to immerse yourself in the culinary wonder of Sunset Grille?
Ambiance is everything
I don't know about you but when it comes to ambiance, I find it to be a very key aspect of my overall dining experience!
For those that don't know, Sunset Grille is located at the Hilton Aruba Caribbean Resort & Casino. If you've never had the chance to step foot onto this resort, it's absolutely worth paying a visit! The resort is very spacious, open air, beautifully designed and landscaped with lush palms, a fresh water pond, sleek, modern cabana-style pool areas, and of course a breathtaking white sandy beach just footsteps away!
The restaurant gives you the option to sit indoors or outdoors, we chose outdoors because with that view how could we resist?! The patio deck overlooks the fresh water pond with a background of endless palms accompanied by a picture-perfect sunset backdrop! Needless to say, we made the right choice.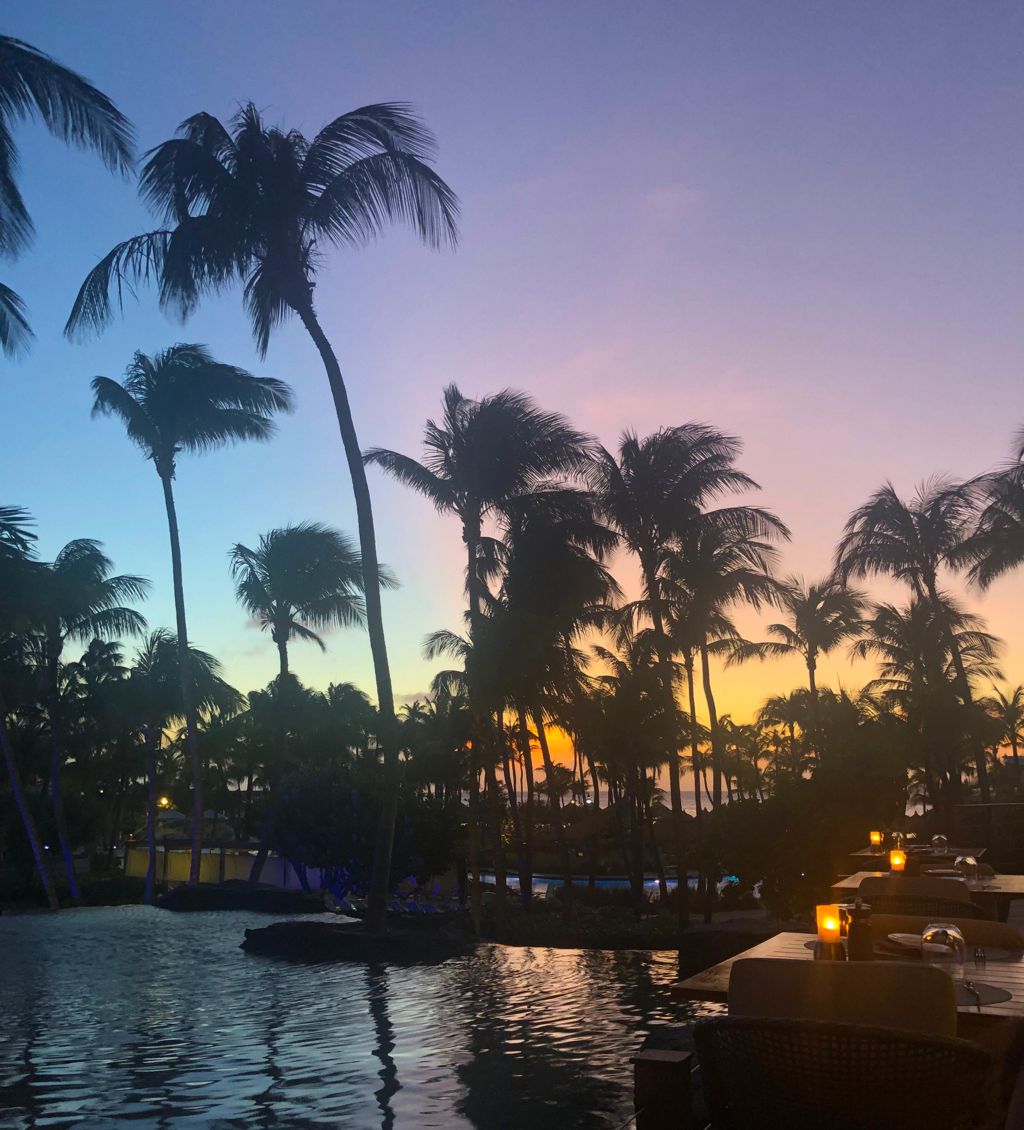 It was quiet, relaxing, intimate and what seemed to be worlds away from the hustle and bustle of Palm Beach. Sunset Grille is like a little peaceful, divine nook tucked away in paradise! With only the sound of soft live music playing in the background at Mira Solo Bar, our conversation and the swaying of the palm trees… their ambiance gets an A+ from me!
Delightful dishes to awaken your senses
The special food and wine pairing dinner consists of 4-courses, each served with a well thought out wine pairing from the ever so reputable and award-winning Kendall Jackson family. The exclusive dinner is offered at a friendly price of just $88 (including taxes and service charge), welcoming all foodies to get a taste of something truly exceptional!
It all started with their surprisingly impressive bread basket. Let me tell you, there is nothing basic about this basket of bread. My personal favorite was the jalapeno cheese bread, small in size but packed a large punch in flavor… I will be back for this.
Then came the main attraction, the 4-course dinner. It was evident from each dish served throughout the evening that much thought, attention to detail and passion was put into creating this culinary artistry. You may think I'm going a bit over the top with my descriptive foodie lingo but you will see for yourself in just a moment what I mean when I say "culinary artistry"…
First Course
Scallops on bed of risotto with grilled shrimp and blueberry sauce.
Wine Pairing: Kendall Jackson Vintner's Reserve Chardonnay
Dish highlight: I know what you're probably thinking, a sweet blueberry sauce with savory seafood?! No way! Well, I am here to tell you… yes way. This daring and unique combination of ingredients works, not quite sure how, but it does. Oh, and the risotto… cooked perfectly, al dente and ever so creamy.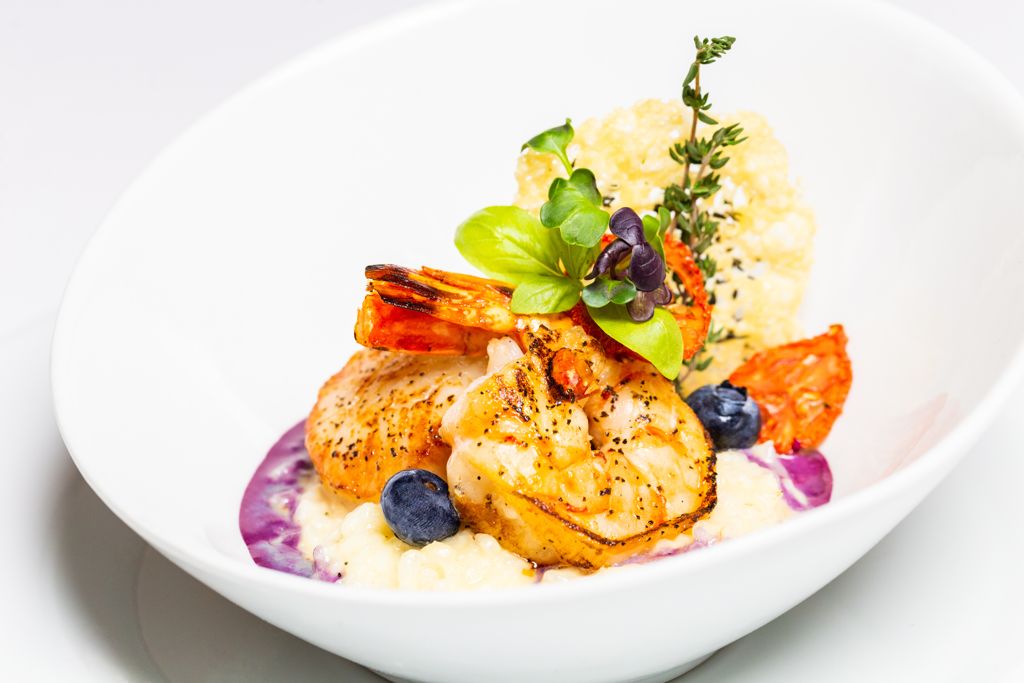 Second Course
Single cut lamb chop with fresh tarragon glaze, served on parsnip puree.
Wine Pairing: Kendall Jackson Vintner's Reserve Merlot
Dish highlight: Wow, this lamb chop! Delicate, tender and juicy… a lovely cut of meat! I find lamb is not one of the more popular meat selections on restaurant menus so it was a nice and pleasant surprise to my taste buds.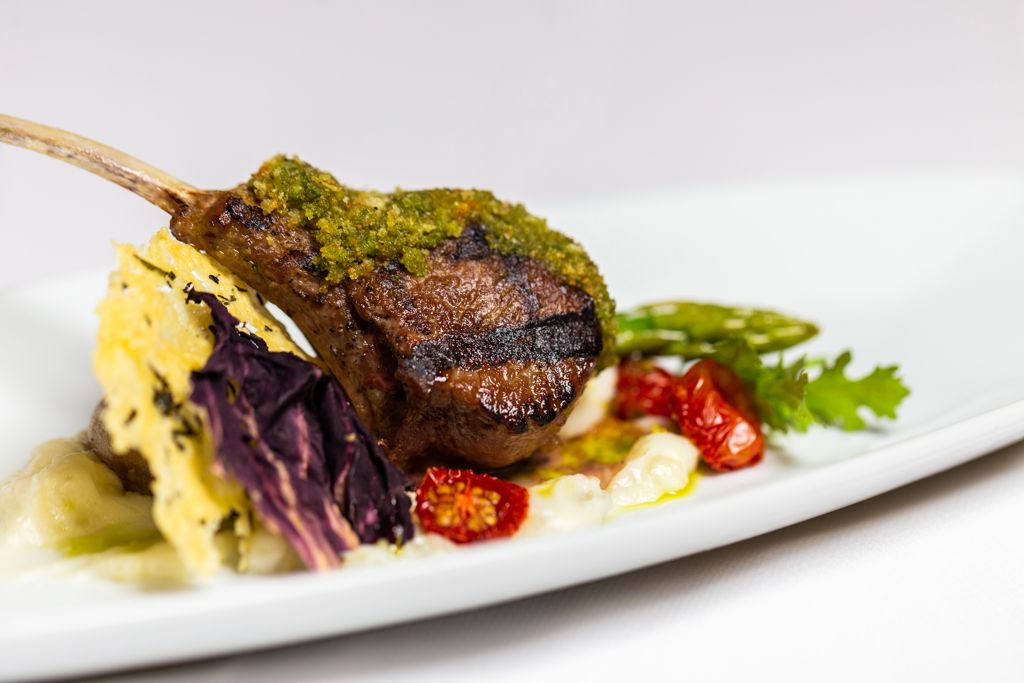 Third Course
Grilled Churrasco with Chimichurri sauce with grilled zucchini and tomato
Wine Pairing: Kendall Jackson Vintner's Reserve Cabernet Sauvignon
Dish highlight: If you are a meat lover than you may tend to opt for the Ribeye when scanning your dinner menu, however, I am here to tell you not to underestimate the flavor of grilled skirt steak! This piece of meat packed so much flavor and juicy goodness that I am still longing for more. I'm not so sure who the real winner was in this dish, the steak or the magical Chimichurri sauce. The sauce was incredibly delicious, comprised of fresh herbs and the finest olive oil. It's a tough choice, let's just call it a tie!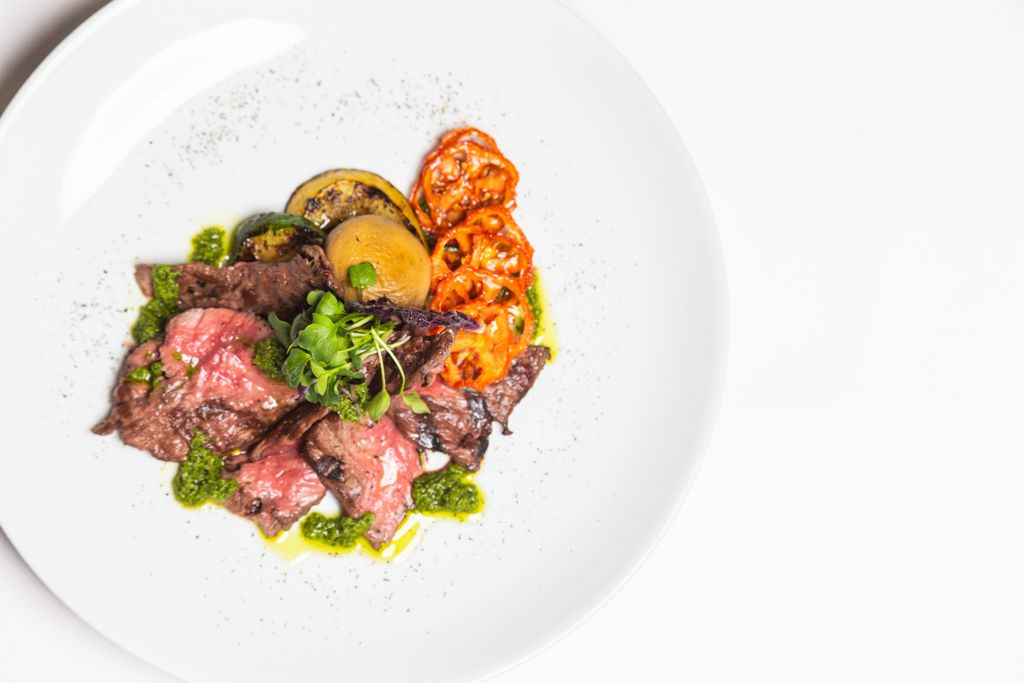 Fun fact: All of their meat comes from Creekstone Farms in Arkansas, a farm producing some of the finest premium cuts of high-quality black angus beef and other meat selections. USDA certified, humane and practicing controlled corn-based feeding only, Creekstone Farms delivers nothing but top quality that you can taste!
Fourth Course
Chef's surprise, a dessert sampler with four mini bites.
Wine Pairing: Quady Electra Moscato
Dish highlight: A little bite of sweetness here and a little bite of sweetness there is a perfect way to end this beautiful evening. Don't let the small "bites" fool you, this dessert sampler is rich and filling and will not leave you feeling unsatisfied! My favorite was the lemon meringue and fruit served with fresh, homemade whipped cream. It was simply heavenly!
All in all I found each dish throughout the evening was boasting in flavor and color. They were gorgeous, bright, vibrant, simple in the sense that it focused on just a handful of ingredients, yet diverse and unique with their selected combinations. Each dish brought out a gentle intensity of unique flavors!
A culinary team driven by passion
I couldn't leave out the people behind the scenes, you know, those responsible for making all of the magic happen! Sunset Grille's culinary team and wait staff are exceptional, genuine and have a real passion for what they do. The service is extremely welcoming, personable and attentive.
French trained Executive Chef Matt Boland and the newest addition to the team, French born Executive Sous-chef, Katia Soujol are the culinary masters to create and execute this culinary delight and I could not praise them enough – it was amazing!
Fun fact: Hilton's bellman, Johnny, provides fresh fish for all of the restaurant outlets at the resort!
Sunset Grille is always busy with presenting something new to their guests, stay tuned because every season they plan to surprise their guests with a new special menu to indulge in!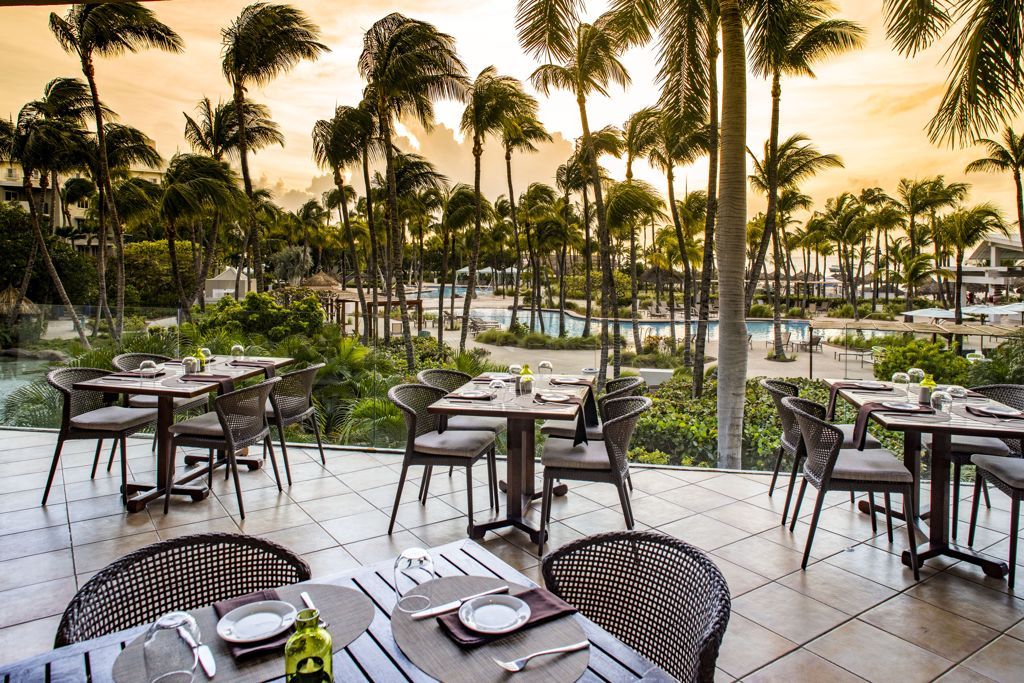 At the moment, they are also offering a special Eat Local menu, presenting three savory and locally inspired entrée options, such as Red Snapper and Ahi Tuna which is available until October 21st.
Lastly, don't forget to check out Hilton Aruba's other dining options – Mira Solo Bar, Gilligan's Seafood Shack, Laguna Restaurant, and Castaways Bar!
If you're tired of reading about food and not eating it, please do yourself a favor and go experience it for yourself!
Make your reservation now or discover more on Hilton Aruba Caribbean Resort & Casino's Sunset Grille!