If you are considering whether or not to add Hilton's Sunset Grille to your Aruba dining itinerary, please, think no more and put it at the top of your list! When it comes to the Sunset Grille dining experience, their flavors, presentation, service, and chic tropical restaurant ambiance simply go unmatched.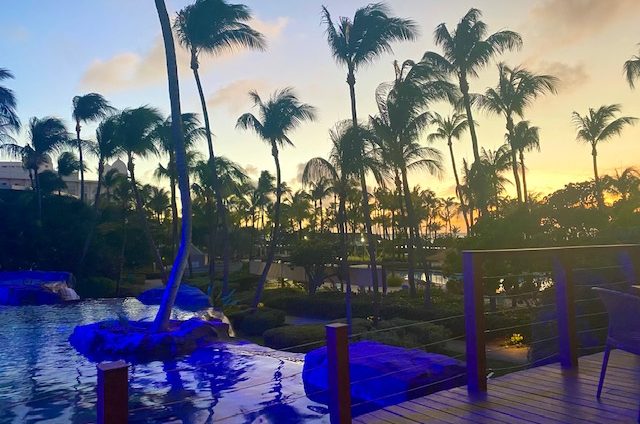 I would like to take you behind the scenes and introduce you to a vital part of Sunset Grille's successful culinary team, Executive Sous Chef, Katia Soujol. Working alongside Executive Chef Matt Boland, together they create and execute one-of-a-kind culinary journeys for their guests, time and time again.
Chef Katia hails all the way from Provence, France. As a young girl, she started cooking with her grandma in the countryside. She then continued to follow her passion and ultimately graduated from the Culinary Institute in Nice. It was from there her career really began to take off in the culinary world. It took her to many exotic places, such as Hawaii, Vietnam, Cambodia, China, and India. In addition to all of her travels, she also received many accolades and appeared in various media outlets promoting her very own recipes and making guest cooking appearances.
Her world travels came to an end when she received an offer to join the culinary team at Hilton Aruba, and lucky for us, she accepted. She admitted at the time she had no clue where this sunny little island was located, but after arriving she was quite happy with her decision! Over the past years, she has strongly influenced Sunset Grille's menu with her vast knowledge and French cuisine.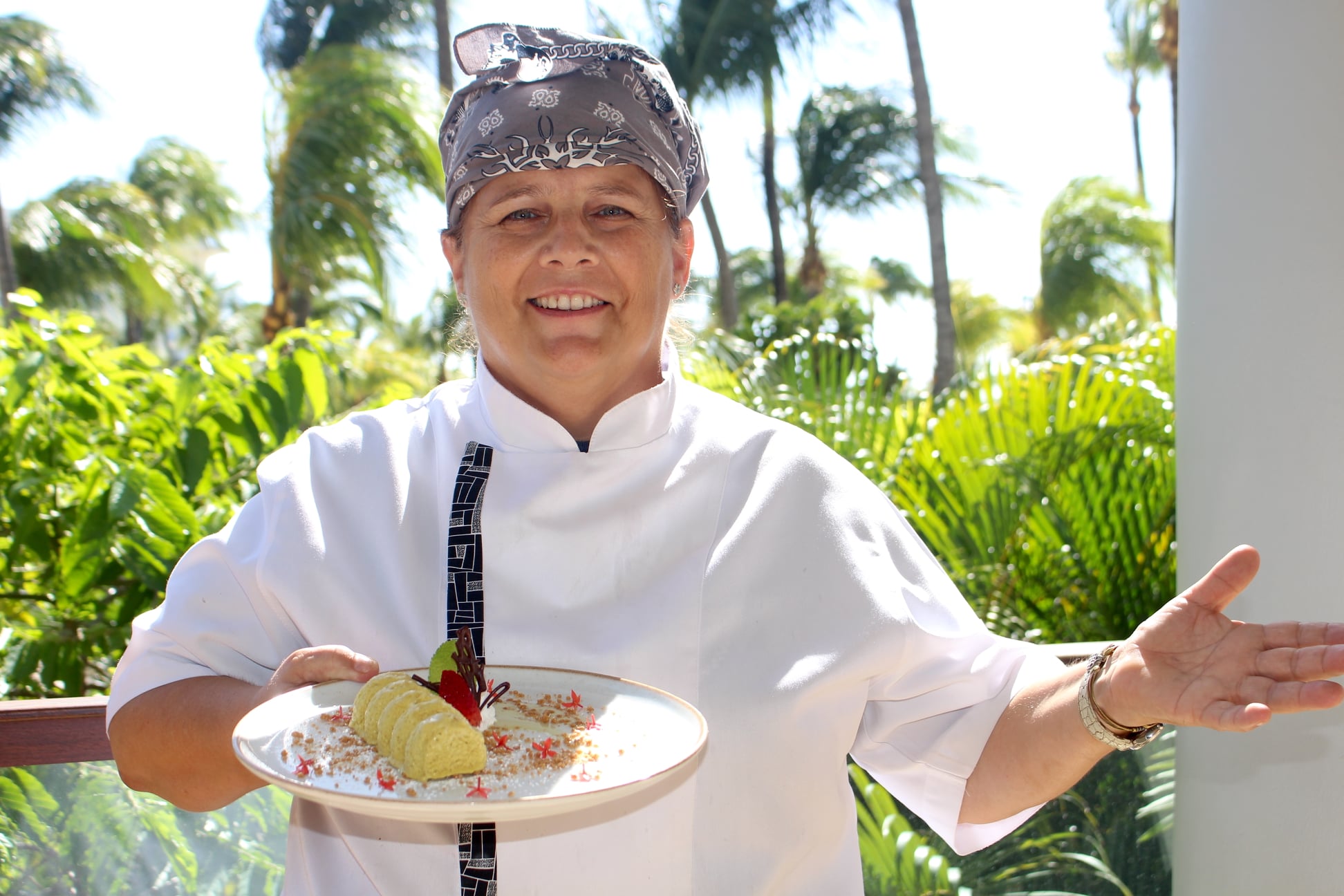 In honor of the recent International Women's Day, Chef Katia chose to create and offer a special menu for the entire week for guests to enjoy. What better way to celebrate and empower women than by having an extremely talented female Chef orchestrate and present a one-of-a-kind dinner to display her work, or should I say art on a plate? I was lucky enough to taste it for myself and am here to share it all with you!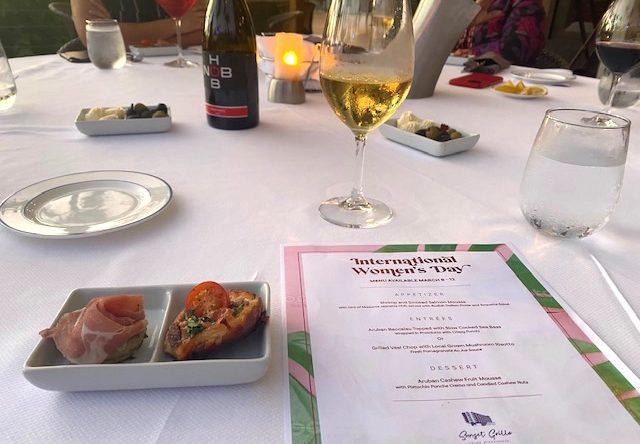 Her creative menu is comprised of mouth-watering dishes, each with fun local flair. Her inspiration came from the importance of utilizing local Aruban ingredients and fusing it with her French and modern style, for everyone's taste palates to enjoy! Her "womanly touch" shines through in the beautiful presentation of the ever-changing art of cooking which has grown into the "new Aruban gastronomy".
Chef Katia started off the evening by serving a tasty and savory little amuse to awaken our palates.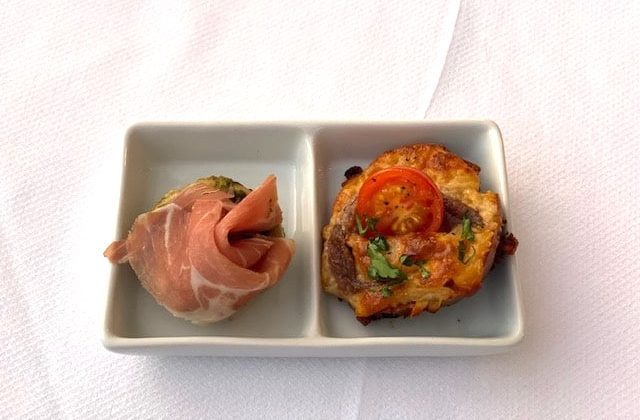 And from there our culinary journey began…
First Course
Shrimp and Smoked Salmon Mousse 
Delectable details: Shrimp and smoked salmon mousse with a hint of local Madame Jeanette Chili served with radish daikon pickle and roquette salad. Not your traditional smoked salmon dish by any means, it was daring and creative (and it worked).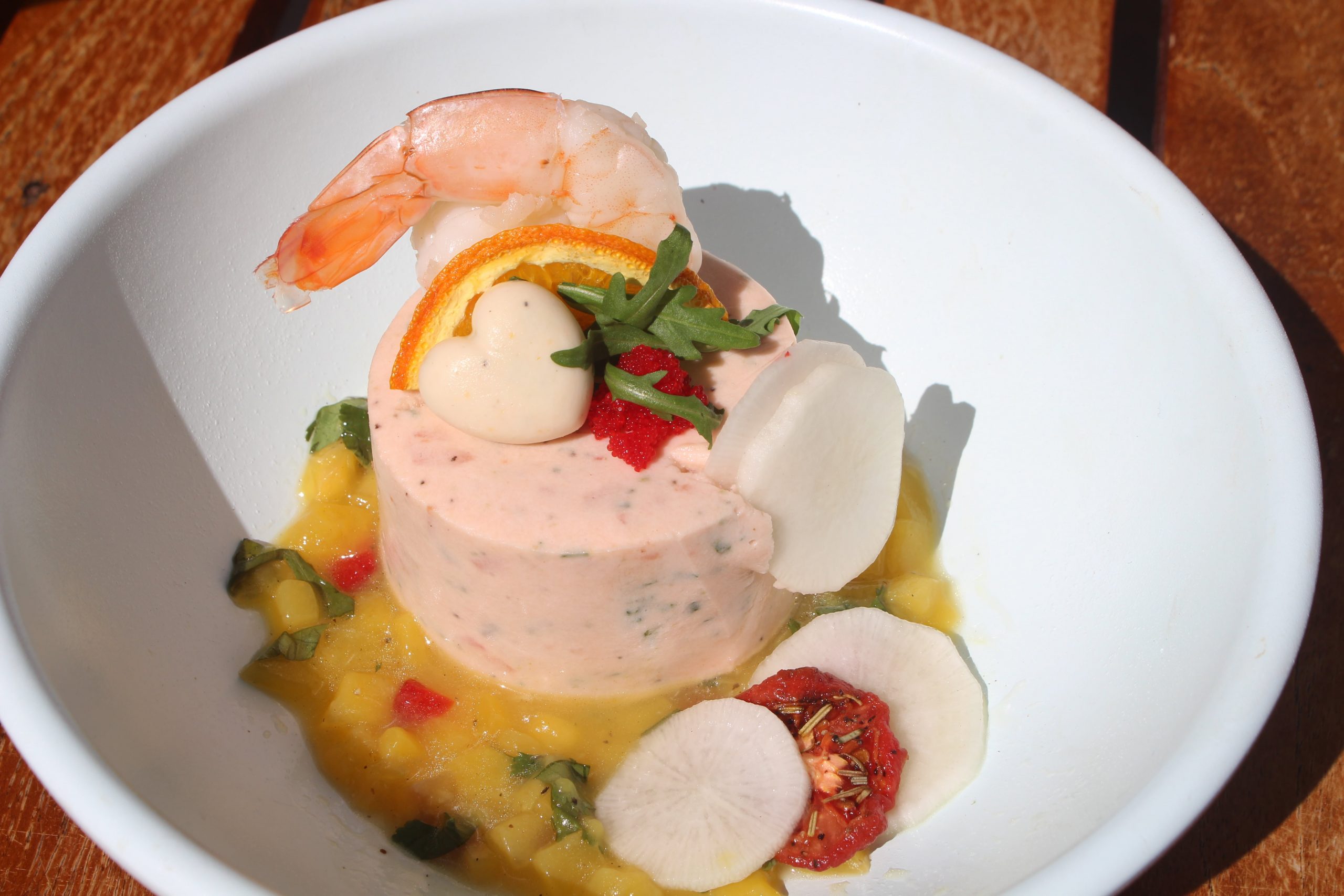 Second Course
We had the option of choosing from the following entrees:
 Local Baccalau Topped with Sea Bass wrapped in Prosciutto
Delectable details: Local Baccalau (salt fish) topped with slow-cooked Sea Bass wrapped in prosciutto served with crispy funchi. The Sea Bass was fresh, buttery, melt-in-your-mouth, unlike I've ever tasted before. The local funchi complimented the dish perfectly!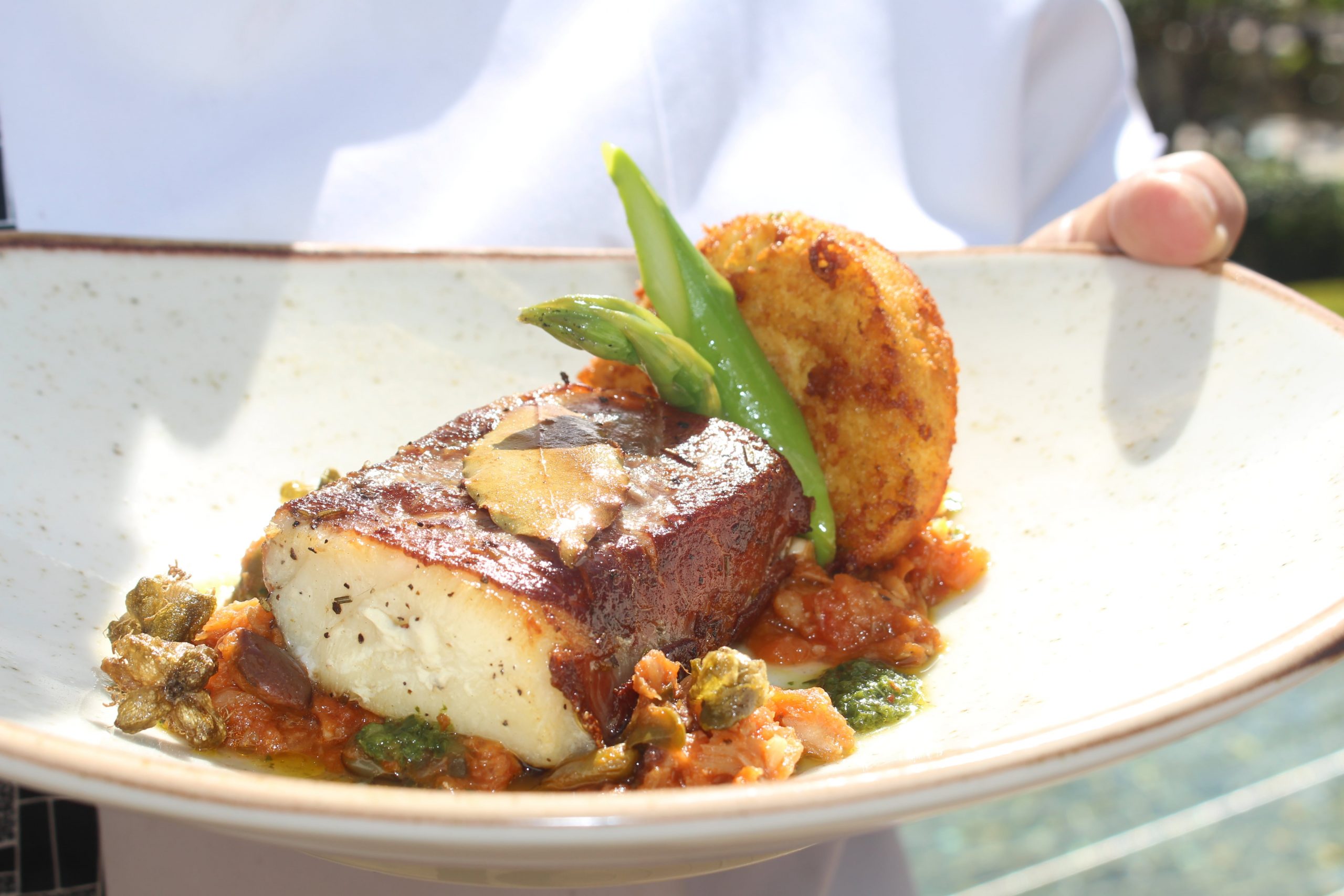 Grilled Veal Chop with Mushroom Risotto
Delectable details: Grilled Veal Chop with locally grown mushroom risotto served with a fresh Pomegranate Au Jus Sauce. This dish is for all the meat lovers out there and it truly does not disappoint!  Tender, juicy, and served with a sauce comprised of fresh local Pomegranates. It lays over a creamy and perfectly al dente risotto infused with local mushrooms… yum.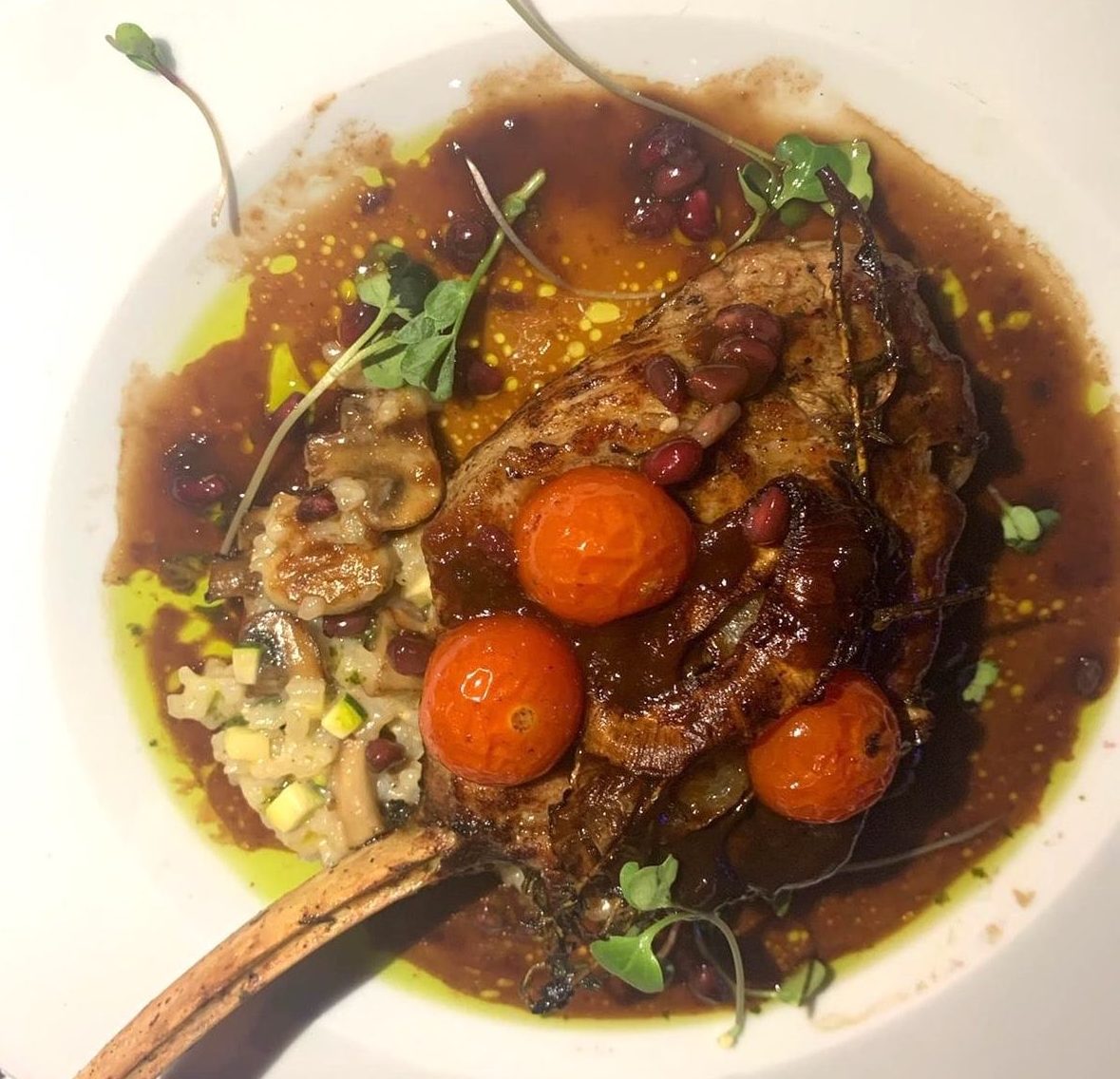 Third Course
Local Cashew Fruit Mousse with Ponche Crema
Delectable details: A true local treat, Aruban cashew fruit mousse with pistachio Ponche Crema (think local style Egg Nog) with candied cashew nuts. If you've never tried cashew fruit before this is the dessert worth trying. The chilled and refreshing sweet treat ended the evening on a perfect note!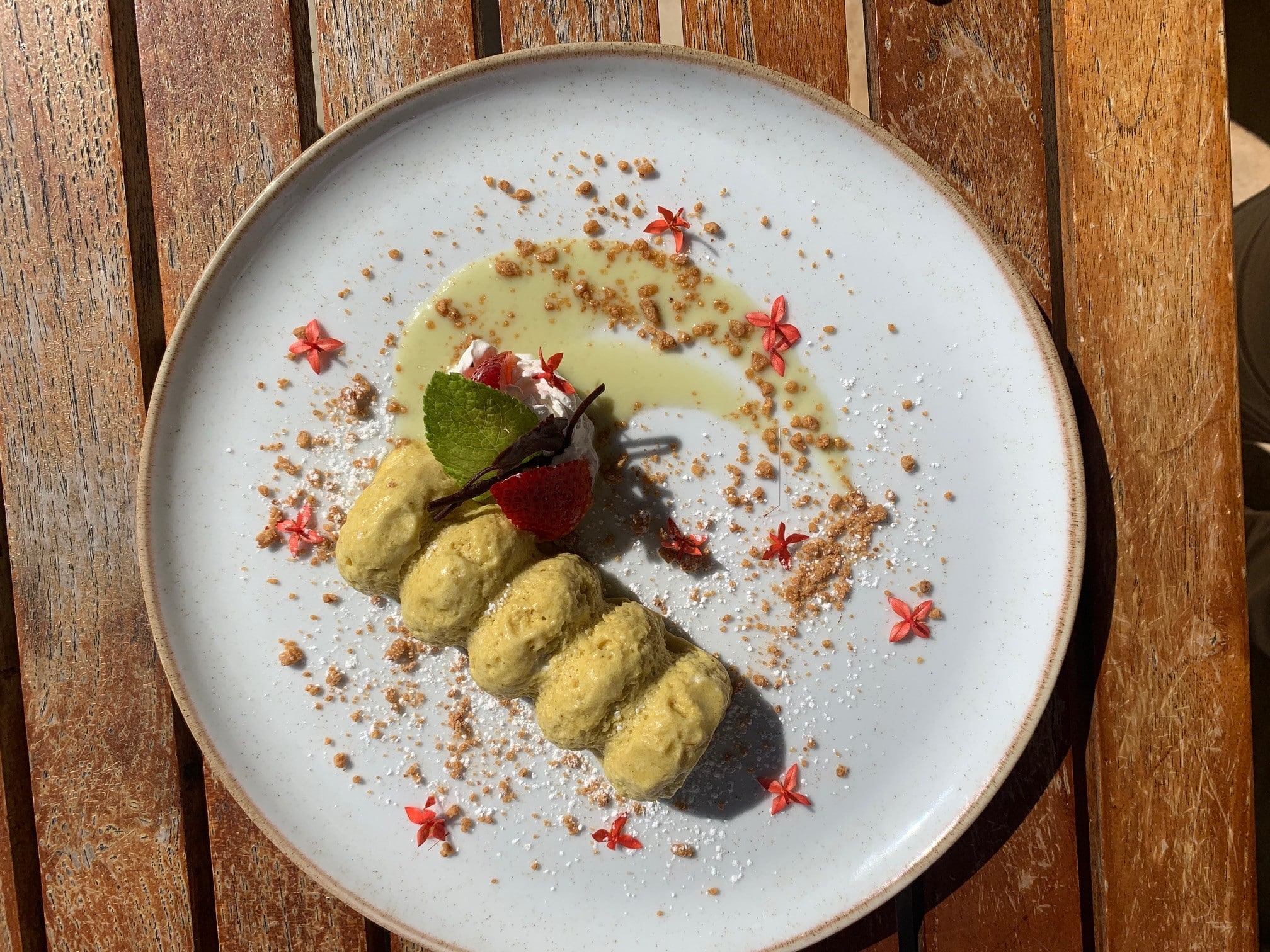 Thank you Executive Sous Chef Katia and the entire Sunset Grille culinary team for this amazing dining experience!
Discover more of Hilton Aruba's Sunset Grille Restaurant or make your dinner reservation now!