Aruba Model Train Museum
En route to Baby Beach, you may stop at the Aruba Model Train Museum. Opened December 1st 2001. The place is friendly and welcoming. Director J. de Vries built himself a wooden Surinam style house on stilts in the neighborhood bordering the Valero Aruba Refinery smoke stacks and holding tanks. Lago Heights, he reports is a very quiet, peaceful place. Then instead of using the ground space as a garage, he decided to enclose it and house his miniature train collection in it. The idea of opening a museum came as he watched his retirement approaching. De Vries has been known on the island for many years as the Ennia insurance man. The following year, he celebrated the end of an excellent, long career. To pre-empt boredom and inaction - his wife is an avid Bridge player, he prepared well for the future. And the entrance to the de Vries museum is free of charge, though small donations are accepted and you must sign your name in the guest book.
De Vries recalls he bought his first vintage toy train in Scotland on vacation. It was still packed in its original box. Toy trains were very popular gifts mid-century before the quantum leap of computer technology. The first one whetted his appetite and since then he has been collecting, German, English and American trains, each has a story, each an historical anecdote. To get into the appropriate atmosphere, de Vries puts on his Amtrak Conductor hat before showing visitors around.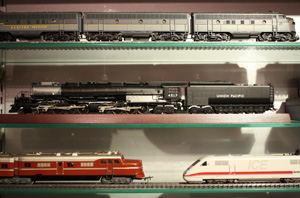 As a young man, de Vries toured the US, by Greyhound. He bought a $99 ticket and embarked on a personal coast to coast tour. Three months into the trip a friendly Greyhound cashier made a mistake issuing him another coupon booklet. The young Dutchman didn't protest the fact she didn't charge him. Thus I was able to complete his exploration of the New World East to West and back. De Vries has a map of the US on the wall. Thumb tags outline his journey through 30 states. His visitors like to quiz him on places he's been, things he saw. This is an excellent conversation piece, de Vries declares.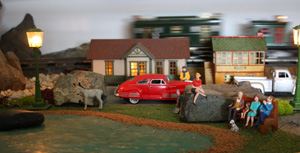 In the showcases, de Vries has some early twentieth century German engines. The Germans before the war, he explains, were exceptional toy makers. Then the English stepped into the void as German industry was destroyed in the war, then the American launched an attack, and didn't quit. De Vries shows some European models used by Canadian railways, though Canadian locomotives, the states are better equipped to deal with sub zero temperatures, then European ones.
Kids will be happy to play with de Vries' wooden toy set up. It's very cute and complex. In honor of the season, de Vries has Santa Claus riding a train. It is bewitching and enchanting to see the little locomotive, zipping on the tracks, lights flashing. It evokes the Wonder Lust, the freedom to get up and go.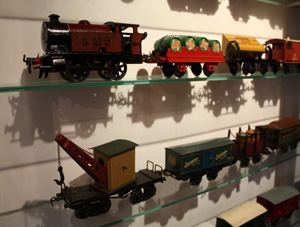 Koolbaaibergstraat 12, Lago Heights, San Nicolaas.
Opening hours: Call to make appointment
Phone: +297 584 7321