Dande Celebration
Dande Festivals
Dande
We don't hear much of Dande being played until after Christmas. Aruban true traditional music is the Dande which is played to welcome the New Year. The Dande was born around 1880 after King Willem II liberated the slaves. The liberated slaves started playing the tambu and visited Aruban homes to wish them a Happy New Year. This is a true local tradition since there is no other island in the Caribbean that has a Dande tradition. Dande came probably from the Spanish word dandare which means going from one place to the other. The musicians normally visit Aruban homes right after the midnight fireworks and lyrics vary a little depending how many family members are present, since the lyrics are actually wishing each by mentioning a person's name and a happy New year filled with blessings, health and prosperity. The singer has to demonstrate the ability to improvise while a hat is being passed around so money can be deposited for good luck. After the Dande the group sings two more waltzes depending on the good luck wishes and then the head of the household will offer each of them something to drink (lately it's a non-alcoholic beverage since there are many more houses to visit now!).
This tradition almost petered out were it not for a group of concerned locals who decided to maintain this tradition alive. Now each year a festival is organized in which children and adults are invited to participate. This is done specifically so that the Dande tradition may be passed on from generation to generation.
Dande Festivals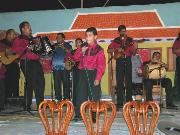 This year seeing the great enthusiasm specially with the young and kids, the festival has become a 2 part festivals.
The youth and kids Dande Festival will take place December 27, while the adult men and women will take place the next day