merchant-offer
Terms
(Valid with direct bookings - Not valid with other offers)
merchant-details
Featured Image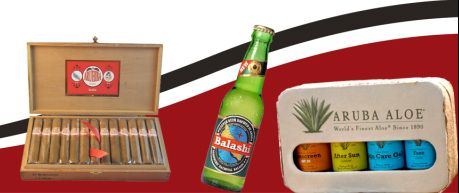 Description
Aruhiba Cigar Tour thru the greenhouse of Mr. Petrochi who will demonstrate his extensive process of producing high quality handmade Aruba Cigars, 100% organic.
Aruba Aloe Factory A private tour through the Aloe Vera will demonstrate how one of the highest quality skin care products are made.
Tour at Balashi Beer Brewery Consider to be Aruba's pride and joy, and winner of two gold medals. One free cold Balashi draft and lunch included.
Terrafuse Tour Stop at the old kunukoo house and garden to see how Family Ciro Abath famous Aruban Sculptor stimulate glass and ceramic art on Aruba through workshop and objects.
Aruba Rum and LiqueurThe last stop at the Aruban Taste, where you will taste the famous Aruba Palmera Rum, Coecoei Aruba Liqueur and famous Ponche Crema.
Available on Wednesdays
Pick-up: Hotels 8:30AM - 8:45AM
Price: $55.00 per person and children less than 10 years old $35.00
Lunch and Refreshments are included
merchant-contact
Opening Hours
Every Day 8:30am - 1:00 pm
Back