If anyone knows me, they know that I am a total foodie at heart. What can I say, food makes my world go round!
I may not be your 'typical' diner, you know the one who orders an appetizer, main entree and a dessert to end the evening? Nope, sorry – not my style! Please hold the large entrees. I have no desire in feeling stuffed and bloated after my dinner has ended. So, what do I prefer for dinner you ask?
Tapas! Yes, I love tapas! Indulging in a variety of small dishes so that I can delight my taste buds with many different flavors, all while saving room for a little more, is my kind of dinner!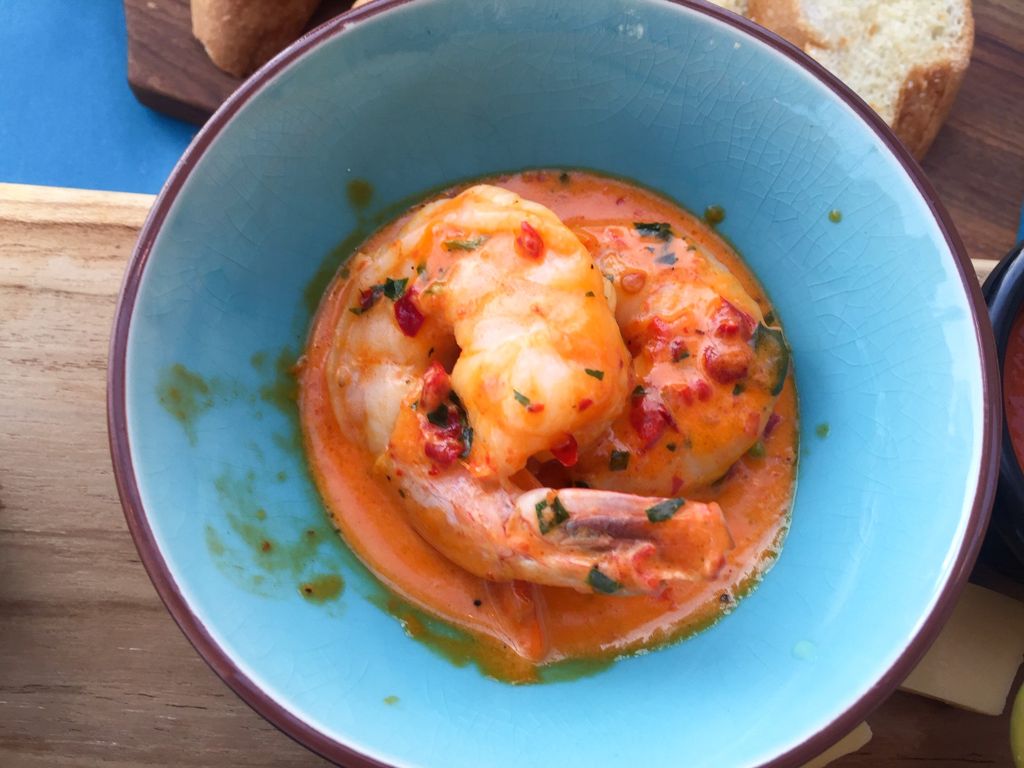 And, in my experience, there is only one thing that can possibly make tapas any better than they already are, and that is… wine! Yes, tapas and wine, two of my most favorite things!
With that being said, I felt it was only right to try out the new Tapas & Wine Night at Matthew's Beachside Restaurant. I managed to lure my two colleagues and friends, Megan and Airany, to join me (it wasn't too hard as you may have thought).
From the moment we arrived, until we left (and every moment in between) we had the most amazing time!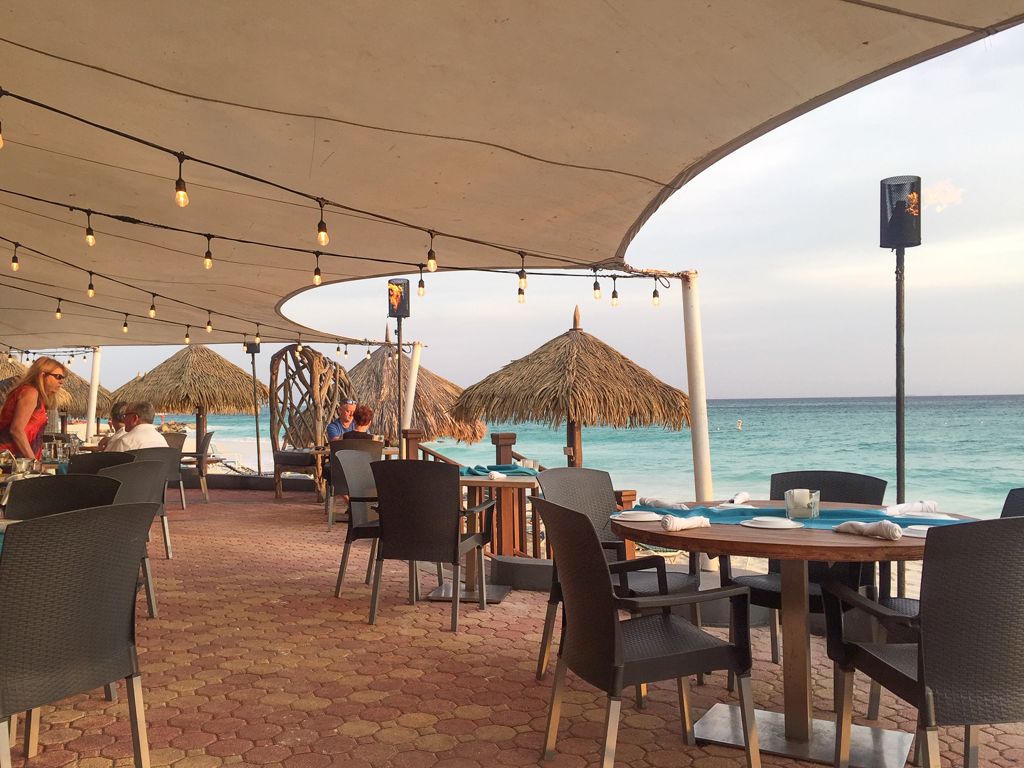 Here is a little 'taste' of our evening:
Ambiance
Not too fancy, not too casual… Matthew's fits somewhere just in between, and it's perfect! If you're looking for a lovely atmosphere that gives you a magical, beach dining experience, yet not exactly in the mood to dress to the nines… then look no further, this is the place for you.
Dining beach side with a backdrop of the beautiful bright blue Caribbean Sea and Aruba's glowing  sunset instantaneously put us in a happy mood (even before consuming any food, now that is saying something).
Tapas & Wine
Yes, the main attraction… the food!
Their tapas special consists of tapas for two and a glass of house wine per person. The tapas selection included: Beef tenderloin tips served in a creamy mushroom sauce, calamari fried to perfection with a side of savory marinara for dipping, toasted garlic bread, olives and cheese, shrimp served in a spicy cream sauce, sesame crusted sushi grade tuna tataki glazed in Teriyaki, and a side of their fresh, warm bread!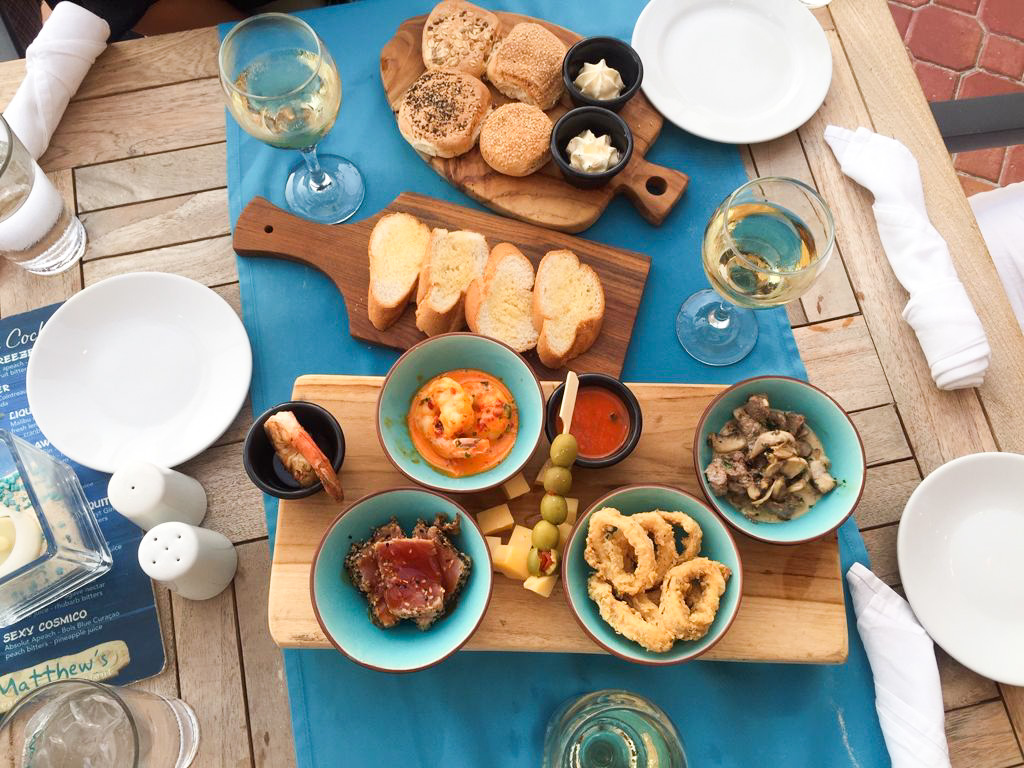 All were absolutely delicious but my favorite without a doubt was the shrimp served in a spicy cream sauce!
Because it was Friday, we decided to order additional wine from their surprisingly extensive and well thought out wine menu (as a wine enthusiast I can always appreciate a nice wine list). We ordered a bottle of Viognier, it paired so well with our dishes that we decided to go for another one! Again… it was Friday, sometimes you just have to live a little.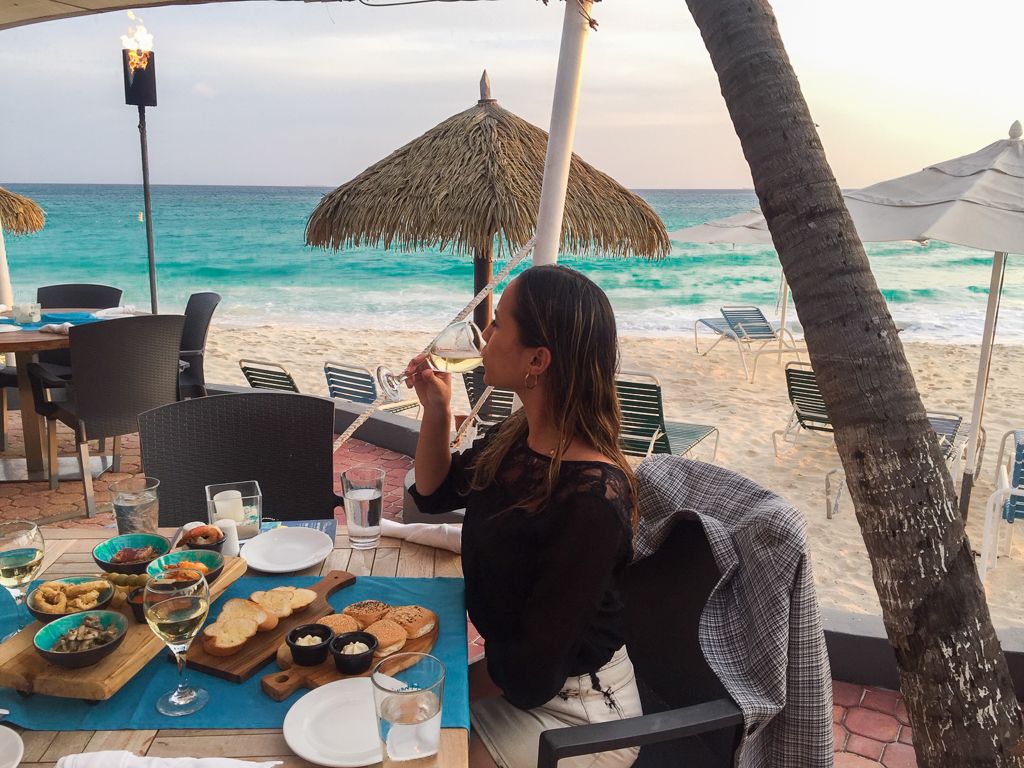 The Team
From the moment we walked in , everyone was extremely friendly, attentive and personable.
Our server, Jonathan ensured our night went perfectly! Jonathan, along with  several other staff members checked in with us from time to time, making sure we were very well taken care of!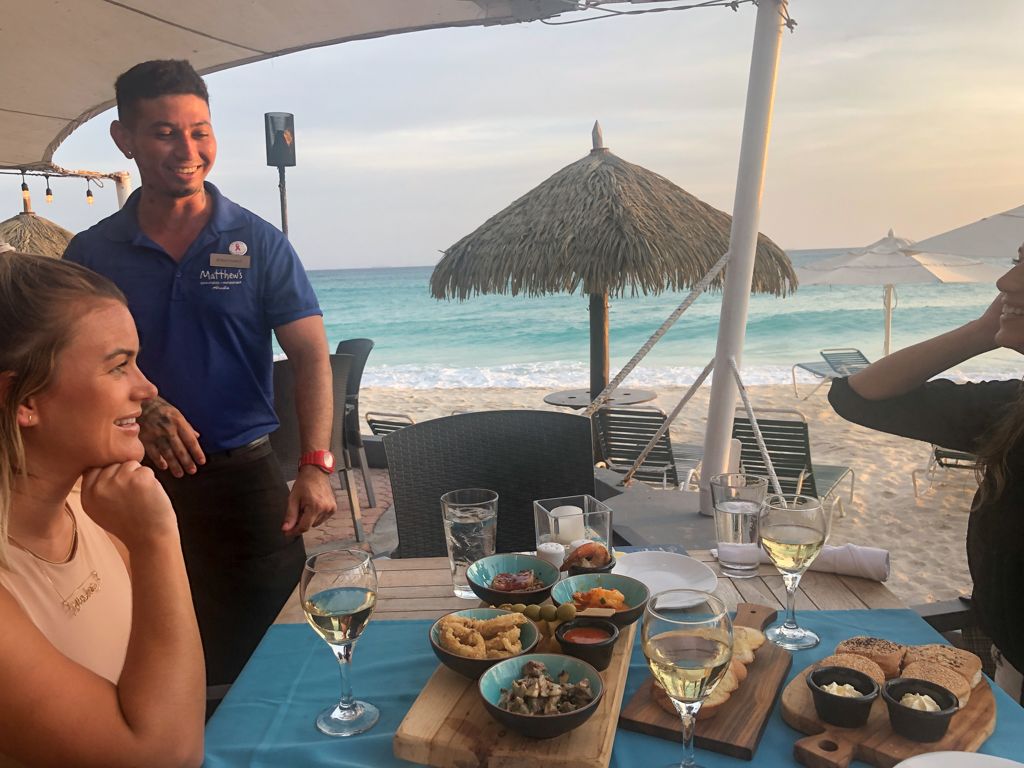 Fun Any Day of the Week
In addition to their Friday night Tapas & Wine special they also have plenty of other dining specials and entertainment offered every day of the week!
Daily Happy Hour – Three times a day! Yes, you read that right, three… times… a… day. It's offered from 12-1 pm, 4-6 pm and 9-10 pm.
Live entertainment – Every Wednesday,  including Karaoke from 4-6 pm!
Italian Night – Every Thursday,  featuring Italian dishes, wine and free Tiramisu!
Romantic Sunset Dinner – Featuring a special exclusive menu, only available with reservations so be sure to make them ahead of time!
Final Stop, Santos
To complete our lovely evening we walked over to Santos Coffee with Soul. We made ourselves comfy at one of the tables on their small outdoor patio. With stringed twinkling lights draped over head, surrounding palms and soft music in the background, we immediately felt super cozy in this airy, yet intimate atmosphere!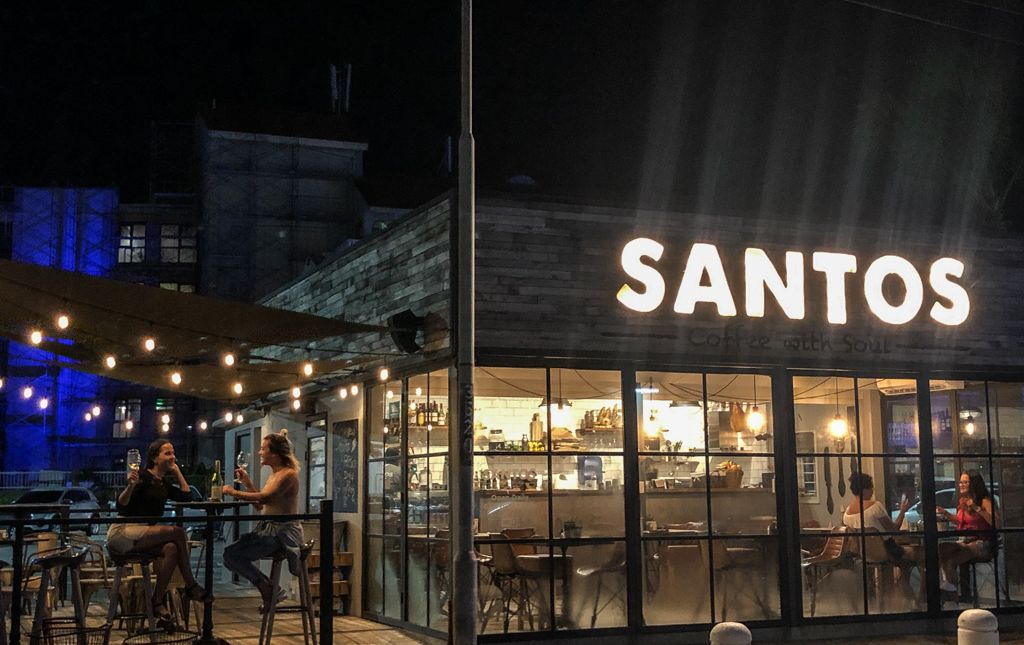 The staff was super friendly, making sure we had everything we needed and gave us just enough space to chat and enjoy each other's company.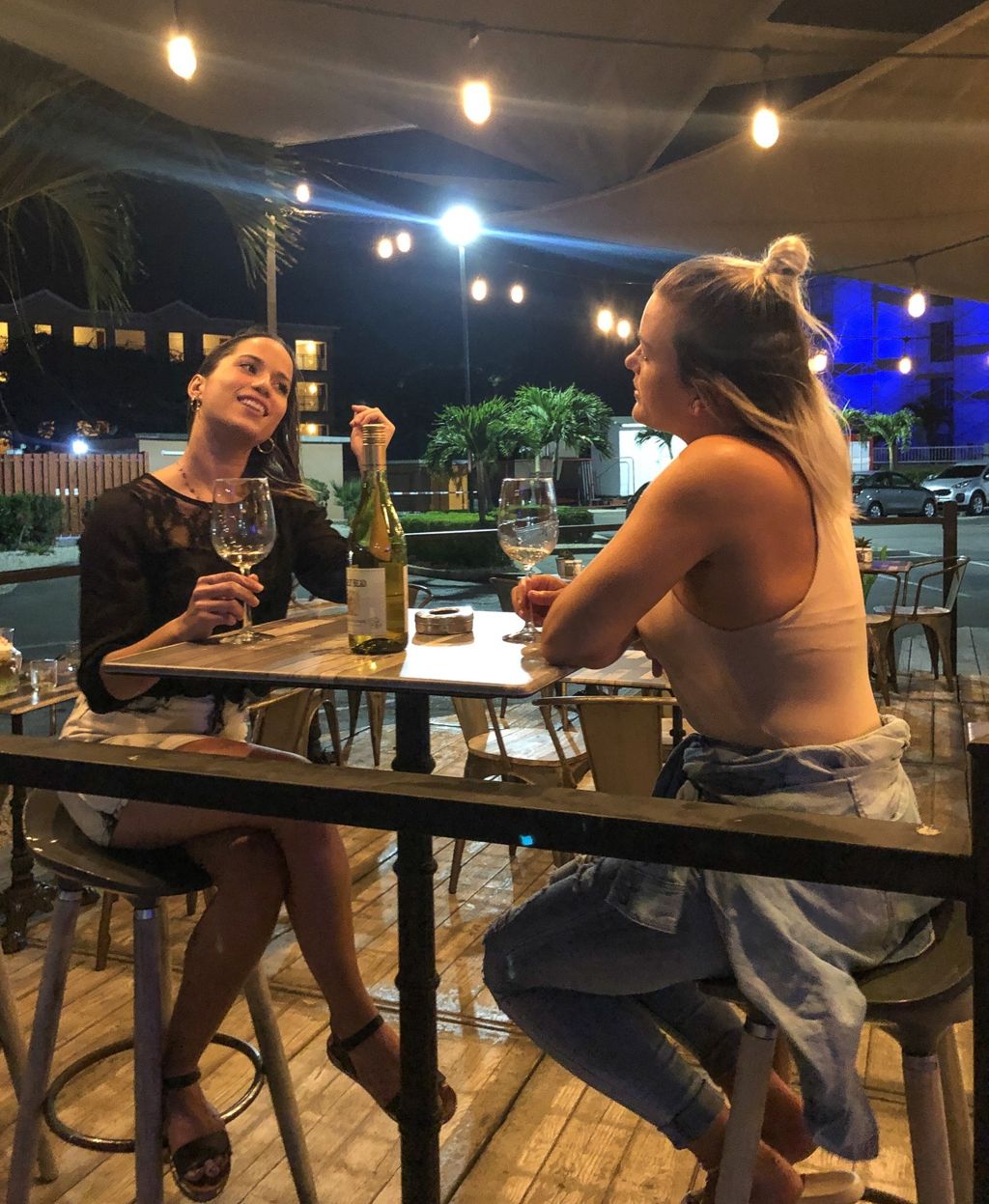 Not only did we enjoy each other's company but we also delighted ourselves in one last glass of wine! After our imbibing came to an end, we couldn't resist trying one of their specialty coffees before calling it a night. We ordered the most unique and fabulous one of them all, their monthly special – The Unicorn! How could we not go for something called, The Unicorn? Well, it did not disappoint and absolutely satisfied our sweet spots and coffee cravings.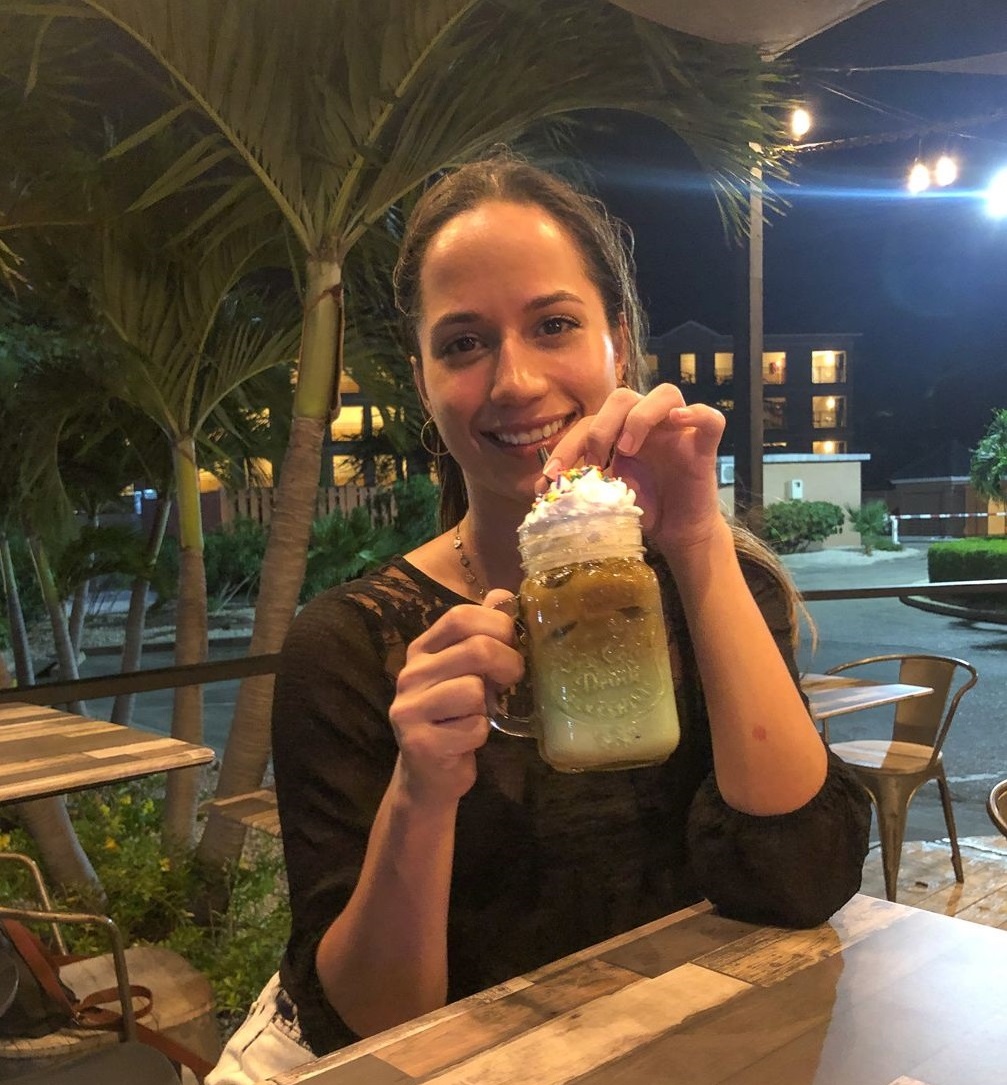 All in all we managed to have quite a fulfilling evening, but not over-filling (wink, wink). I would go back to Matthew's (for a dreamy date with my boyfriend) and Santos (for some relaxing blog writing and delectable coffee) in a heartbeat!
Now that I've brought these culinary and cozy wonders to your attention, there is only one thing left to do – try them for yourself!
This evening was brought to you by tapas, wine, lots of laughs… and some more wine.
Discover more about Matthew's Beachside Restaurant and Santos Coffee With Soul.