You may be familiar with the name but until you've experienced this fine establishment for yourself you will not understand the magnitude of how seriously delicious this place is!
Texas de Brazil is an authentic Brazilian-American churrascaria (steak house) that combines the cuisine of Southern Brazil with the generous spirit of Texas. Currently it is the largest Brazilian-American steakhouse chain in the world!
It all started in Porto Alegre, Brazil where living the typical rancher's life and feasting in the traditional rodizio style was an everyday way of life.  One of Texas de Brazil's now partners had visions of bringing this culture north to the United States. Combining the culture and feast of Brazil with the service and refinement of the states, Texas de Brazil Churrascaria (steakhouse) emerged and we are so very grateful! It is family owned and run, and continues to expand both domestically and internationally to bring the Brazilian steakhouse dining experience to new and exciting locations.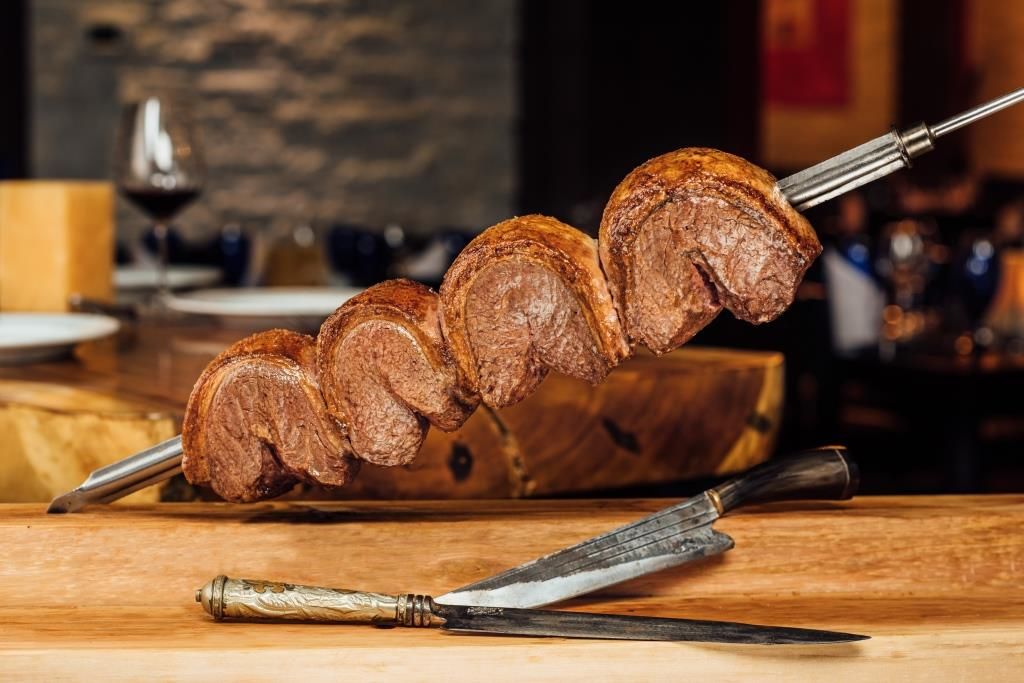 We are proud (and thankful) to share that Texas de Brazil opened its FIRST international location in 2002 on our "One Happy Island" of Aruba!  Located in Palm Beach in the high-rise hotel area, Texas de Brazil Aruba is one out of only 7 international locations. Other international locations include: Mexico, Puerto Rico, South Korea, Trinidad and Tobago, United Arab Emirates and most recently added Saudi Arabia.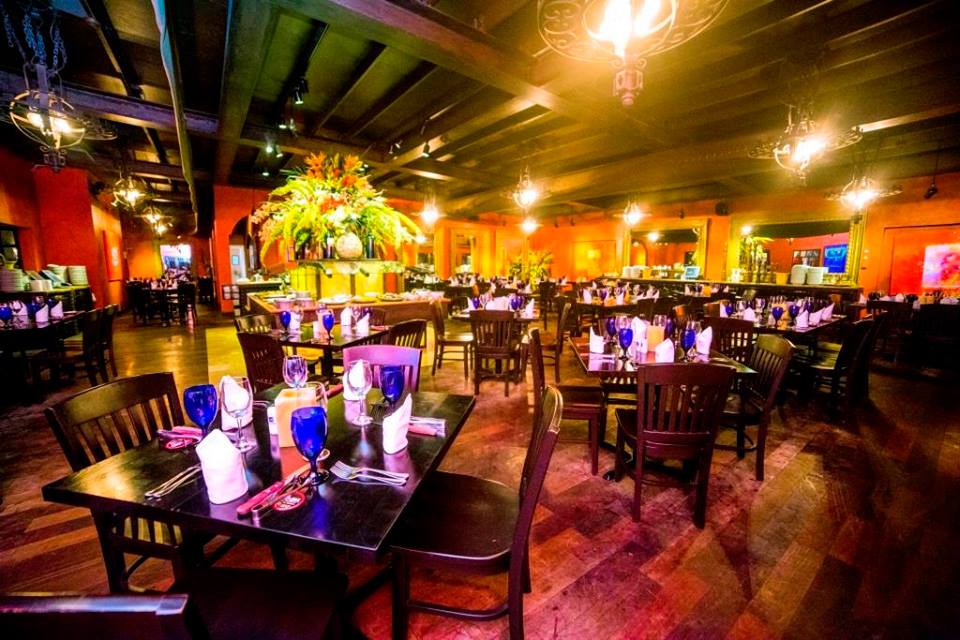 Okay, so you may be wondering what all the hype is about? What sets Texas de Brazil apart from the other steakhouses on the island or in the world for that matter? Well, we are here to provide you with an inside look at the true experience and feel of Texas de Brazil Aruba! Until you can find out for yourself that is.
Dining at Texas de Brazil is not your typical dining experience. As you are seated, you are promptly served a selection of side dishes, such as their famous cheese bread, garlic mashed potatoes, and perfectly sweet fried plantains. Drink orders are then taken – be sure to view their impressive wine list (recently awarded the Wine Spectator Award it is quite the extensive selection that will please all the wine lovers out there). Or perhaps you are leaning to one of their refreshing and delicious Brazilian cocktail creations or their famous Sangria! And just like that its go time – let the games begin!
You'll notice some fine gentlemen dressed in traditional wide 'bombacha' pants with large black belts and boots to match; they are called 'Gauchos'.  A troop of roaming, gaucho-clad carvers' parade through the room serving deliciously seasoned cuts of meat on wielding sword-size skewers loaded with filet mignon, parmesan pork loin, chicken breast wrapped in bacon, hearty flank steak, seared top sirloin, Brazilian sausage, and the house specialty picanha. The meat is carved tableside to your preference, allowing you to choose the type of meat and the level of doneness, which provides an interactive dining experience. You can request rare, well done, or anywhere in between. The gauchos know exactly where to point their formidable knives when carving for you.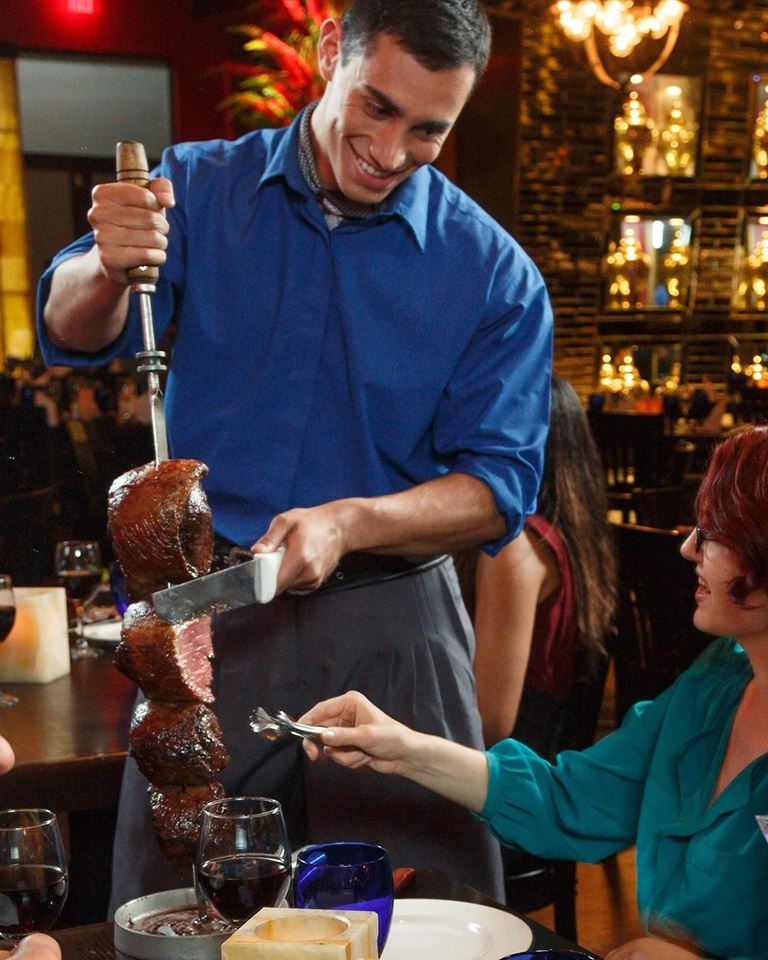 Diners are supplied with a green and red card so that the servers and carvers can see which customers are ready for more deliciousness (green) and which ones need to loosen their belt a notch and take a small break to prepare for the next go around (red). Remember the choice is yours…it all comes down to willpower.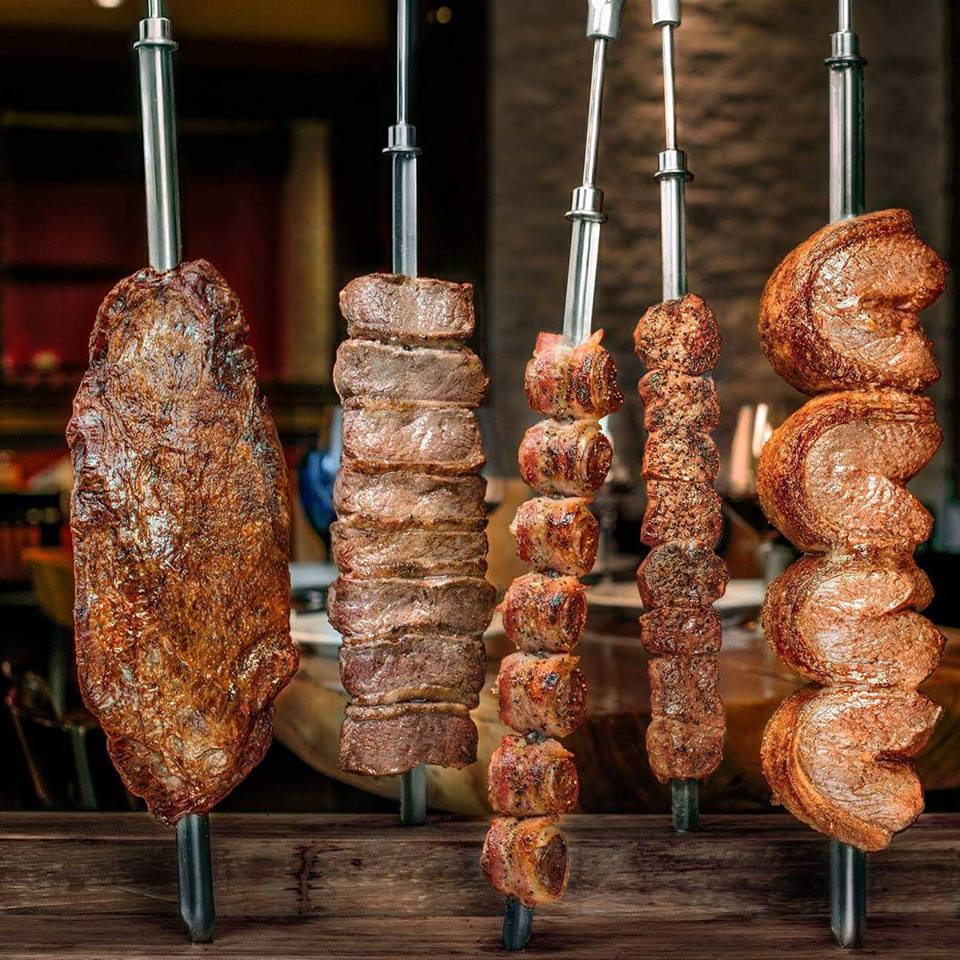 Forewarning: what you are about to read may cause immediate carnivorous cravings and make your mouth water uncontrollably.
Simple, yet refined, their meats are the best of the best because of their preparation. All are prepared and grilled according to true Brazilian tradition. Traditional churrascos have chunks of meat grilled on skewers at specific temperatures and Texas de Brazil keeps the cooking process as authentic as possible. There is no doubt that using high-quality meat is essential for a great churrasco, but there are two other important elements for successful Brazilian-style grilling: salt and fire.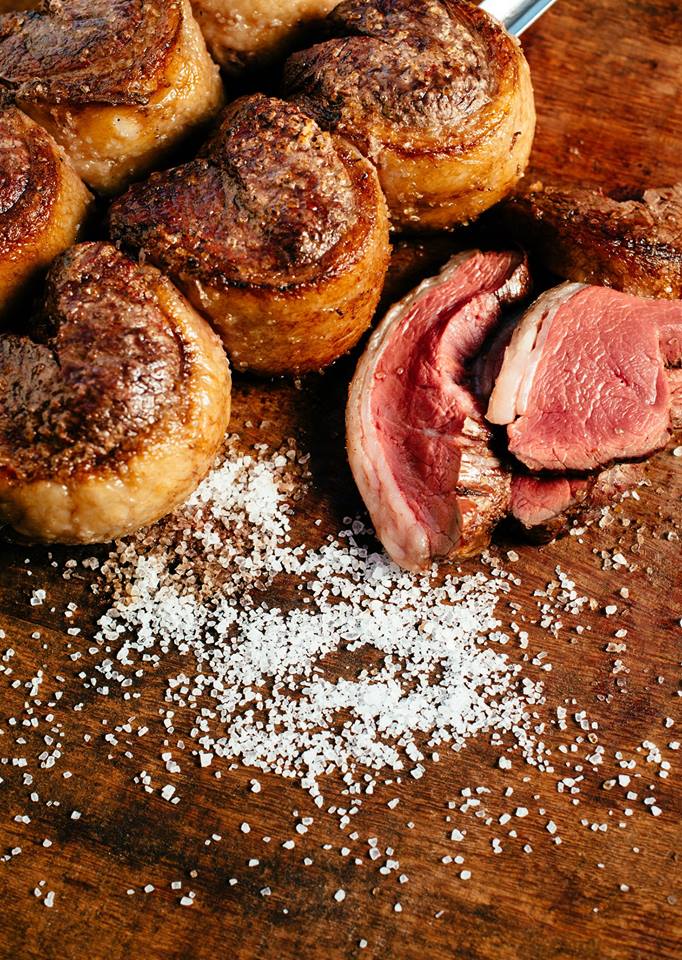 Salt is poured into large pans; the carver then takes a handful of salt (and sometimes other seasoning depending on the type of meat) and covers the meat completely, applying it loosely and generously but never rubbing it into the meat. The other key element is fire. Always using charcoal, it is important that the flames never touch the meat. The meat is taken to the grill only when the charcoal is completely burned, glowing orange, and covered with a thin layer of white ash. The embers become so hot that within minutes the fat from the meat will start to melt and drip over the charcoal, creating an incredible white smoke that engulfs the meat. This smoke is fundamental to creating the characteristic flavor of churrasco.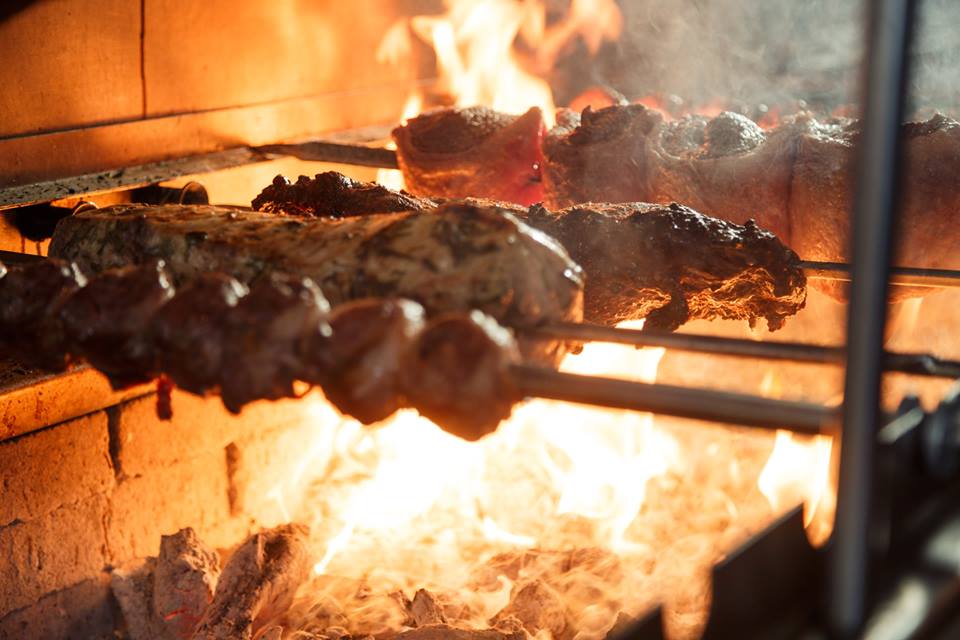 As each gaucho and offered meat selection graces your table you will be wowed and eager with excitement each time, trust me it doesn't get old! Juicy, tender, melt-in-your-mouth…succulent slices of meat will please your taste buds just right, making it hard to flip your card to red.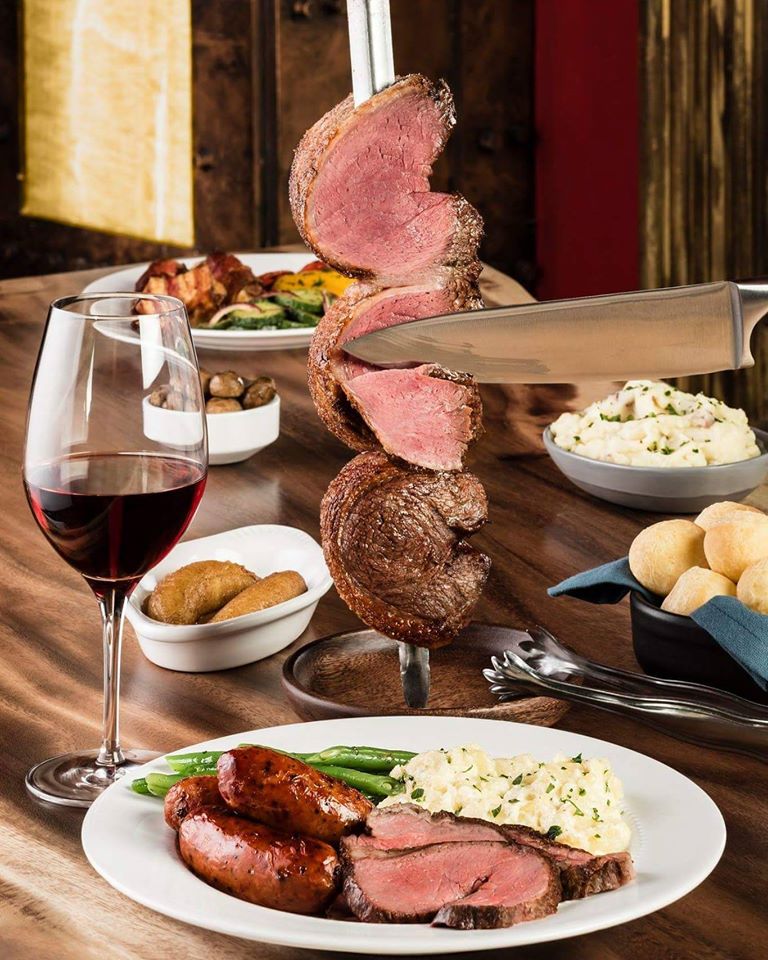 However, do make sure to leave some room for their extravagant salad area. I say extravagant because it is no typical, basic salad bar you may be used to. The selection is so extensive and delicious that many diners opt to solely enjoy the salad area, making for a great alternative for those who may not be as carnivorous or who have smaller appetites. Options include sushi, marinated vegetables, fresh greens, aged cheeses, hot and cold specialty items and much, much more. You can check out their fixed price menu here.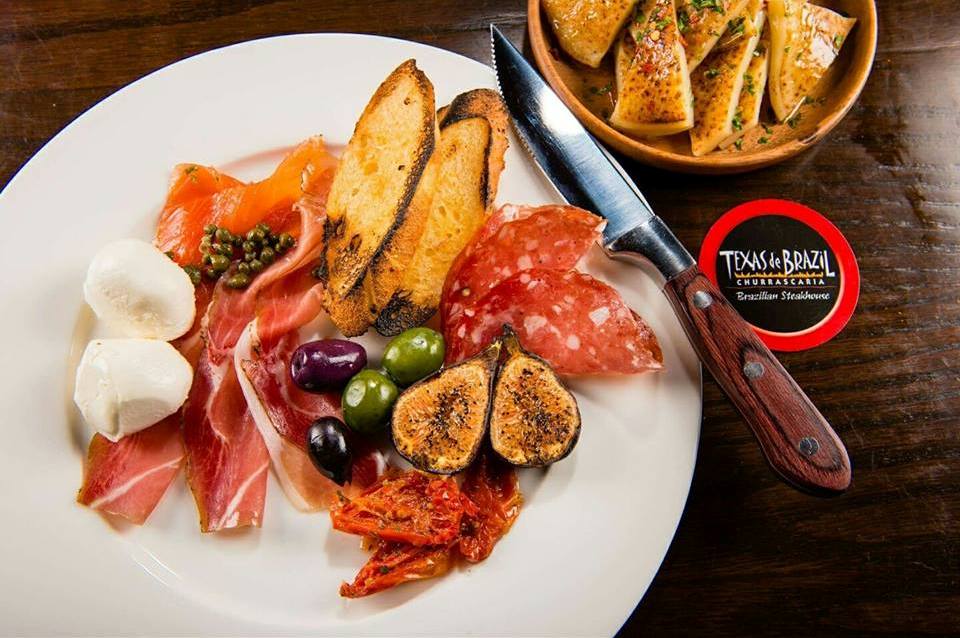 To end an unforgettable night, enjoy an a la carte dessert with an after dinner drink of your choice – that is IF you managed to save any room!
With such a fun and unique dining concept it is perfect for large groups and celebrations: semi-private and private dining is available for small and or large groups. They host groups for any and every occasion! If you are interested in an all-inclusive package and would like to know more details and information feel free to contact Rachelle Lake, Events Manager of Texas de Brazil Aruba at rachellelake@texasdebrazil.com or call +297 586-4686.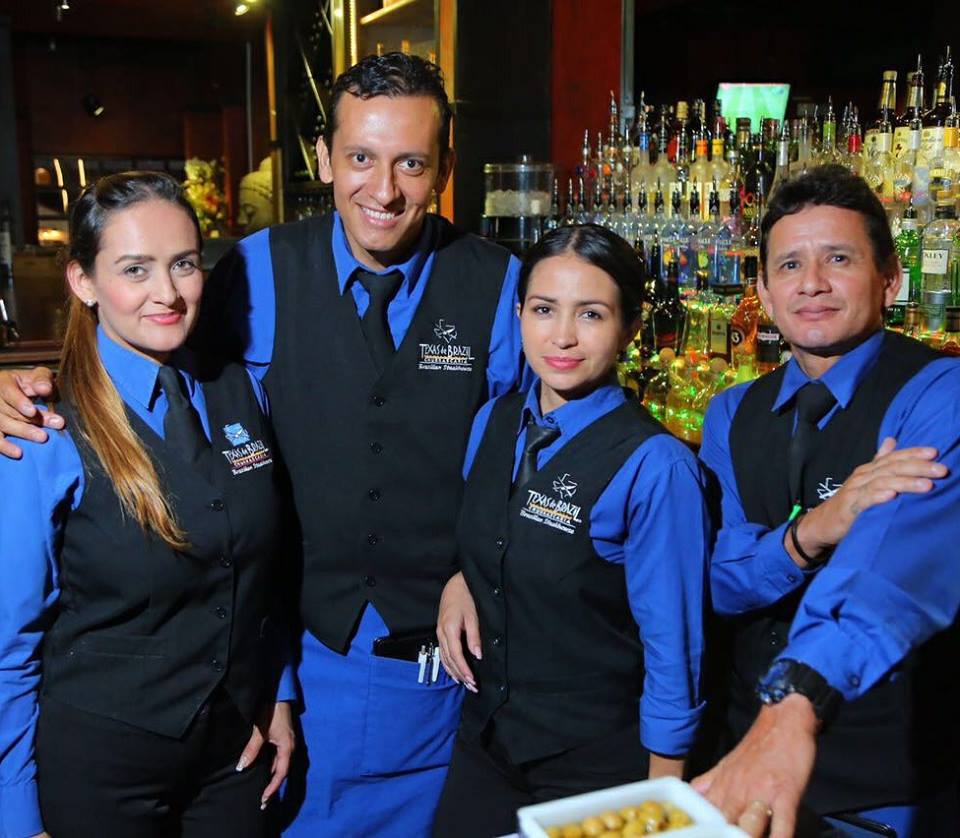 Be sure to stay informed on their offered discounts, specials and holiday promotions. Such as their senior citizen discount, public servant discount and year round special for local residents.
Once you have experienced this meaty, epicurean adventure I am confident that you WILL be back for more! View more information on Texas de Brazil Aruba or if you find your mouth is still watering go ahead and make your reservation now!