Aruba's Carnival - Steelbands & Brassbands
Steelbands
Leonard Turner, a Trinidadian immigrant who worked at the Lago Oil Refinery, was the first to introduce steel bands in Aruba. Being unhappy with the lack of entertainment on the island Turner recruited a group of young men and they began experimenting with music. This resulted in the first ever steel band in Aruba, named Shoo-Shoo Baby and Aruba All Star Boys.
They started making their steel pans from oil drums collected from the Lago Oil Refinery. The barrels were formed by hammering the bottoms with a sledge hammer until they had the right shape and tone.
The group increasingly started to play variants of the samba, rumba and other popular music on their home-made instruments. As their rhythm and appearance became more common, and popularity grew, more and more musicians joined. Some of the steel bands grew to over forty musicians.
The first Carnival steel band competition ever was organized in 1964. Eight steel bands competed in a legendary competition. The Merrymakers, the Devils, the Curacao Heroes, the Long Gun Boys, the Paradera Steelband, The Silver Stars, The Allstars, and the Aruba Invaders were all talented groups which produced the most amazing sounds. Finally the Aruba Invaders won with their variant of the theme from exodus, making them the first Aruban steel band competition winners.
By the 60's & 70's multiple steelbands were providing music for the carnival parades. The bands became so popular that a total of 18 steel bands participated in the 1978 steelband competition. Unfortunately, the amount of musical panmen decreased in the 90's because of a lack of institutional support and appreciation. Today, steelbands are almost a lost art. You will rarely ever see a steelband in a parade, although one or two may exist. One of the still existing steelbands plays at the Tourism Night of carnival, so be sure to check it out.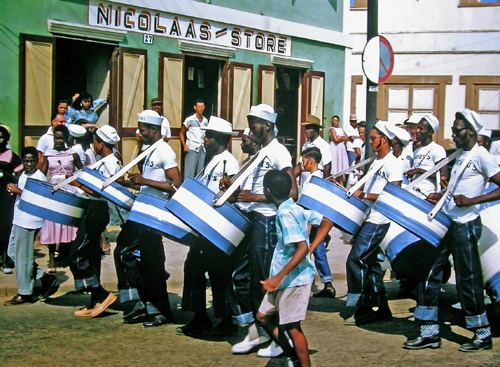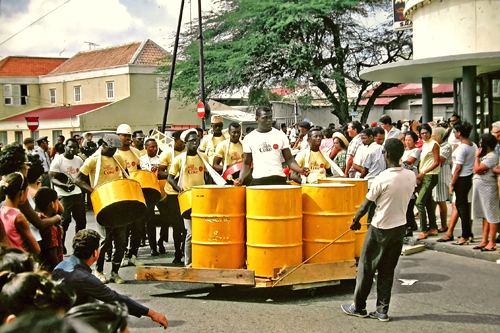 Pictures are courtesy of Dr. Meiners and Historia di Aruba.
Brassbands
The brassbands on Aruba play a type of rhythm that is called Aruban Asambeho, named after the developers Arnold Beyde and Samuel Hodge (Aronold Samuel Beyde Hodge). They combined the music of the samba, the calypso and marching bands to produce brassband music with a sound, rhythm and beat suitable for dancing, especially made as a musical accompaniment for the Aruban Carnival Parades.
The rhythm of the brassbands is created by heavy drums combined with lighter drums and snare, and the tune is created by wind instruments, for example trumpets, trombones, and saxophone. The sound of the brassbands is phenomenal and the music is nowadays seen as a new symbol of national identity. Unfortunately, the brassbands today have lost some of their popularity, but the brassbands that still exist offer a great show.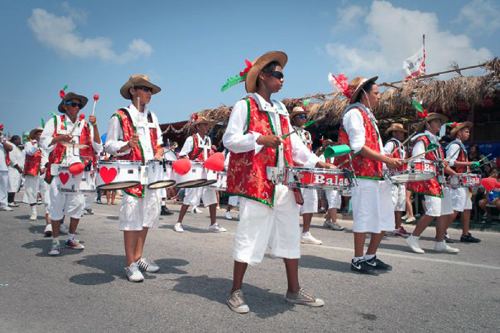 Video Documentary

Courtesy of Rebecca Roos