Friday, November 28, 2014
Aruba vacation and travel information on Aruba hotels, beaches, restaurants and so much more
skip to main content
General facts about Aruba
Aruba
Located about 12 degrees north of the equator, approximately 29km (18 miles) off the Paraguana peninsula of Venezuela. The island, one of the Lesser Antilles islands, is about 30 km (19 miles) long and about 8 km (5 miles) wide with an area of 193 sq km (75 sq miles) and a population of some 101,000. (CBS: 2010 Census)

For more information about Aruba geography.
Accommodation
Aruba offers you a very large and varied choice of hotels, both low-rise and high-rise, apartments and guest houses. There are also numerous timeshare (Aruba is a red time location all year round) and real estate opportunities.

For more information about Aruba accommodations.
Children
Aruba is a great place for young kids and also older ones. There are a number of children's playgrounds and all sorts of activities that will ensure that kids won't want to leave!.
Customer Service
Compliments and complaints regarding Aruba's tourism can be voiced by calling the Customer Service Hot line on (297) 5839000, active Monday to Friday from 9 AM to 5 PM. An answering machine logs calls outside these days and hours. The individuals and/or establishments concerned will be informed.
Drinking Water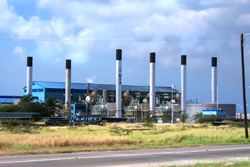 There is no need to buy bottled water in Aruba, the island's tap water is pure and refreshing, distilled in the world's second largest saltwater desalination plant. Oil is refined on the island's southwest coast and a by-product of this process is abundant pure drinking water and electricity. The plant is called the WEB, and there are many requests to tour the plant that is located in Balashi (Phone +297 582 4700).
Electricity
Rarely is there a power failure and the island has decided to adopt the North American voltage standard of 110 A.C. (60 cycles), the name as in the United States and Canada. The TV standard is NTSC so your home video camera will also play back on the hotel's TV sets or large screen projectors.
Emergency Numbers
Fire department and Ambulance
911
Police
100
Hospital in Oranjestad
+297 527 4000
Medical Center in San Nicolas 
+297 524 8833
Air Ambulance:
Richard Rupert
+297 582 9197
Fax
+297 583 2791
Cellular
+297 593 2329 / +297 593 0201
Police Headquarter
+297 527 2900
Dept. for National Security
+297 581 1911
Medical
Dr. Horacio Oduber Hospital is the main hospital and is well-equipped both with 280-bed as regards staff and equipment. Oxygen tanks and hemodialysis services are available. Hotels have doctors and dentists on call and appointments can also be arranged through your hotel. Several other medical clinics also exist on the island.
Postal Rates
Aruba has its own postage stamps since 1986. Rates for international post letters - Afls 2.20 or US$ 1.25 for the first 10 grams. Rates for international postcards Afls. 1.30 or US$ 0.75 for the first 10 grams.
Seasons - High & Low
Aruba's low season falls between April 15th and December 14th and High Season is between December 15th and April 14th. Some hotel & resort accommodation packages differ from these dates by perhaps a week or so.
Service Charge
When included, the service charge on food and beverage is normally around 10 to 15 per cent. At one's own discretion an extra amount can be added for good service.
Shopping
Most stores open from 9 AM to noon or 1 PM and from 2 PM to 6:30 PM, although some remain open between noon and 2 PM. Shops are open from Monday to Saturday. Hotel stores have varying open hours so check at your hotel for these. Mall store hours are 10 AM until 6 PM. You'll find more information in the shopping section.
Special Facilities
Limited facilities for disabled persons are available. Some hotels have rooms that can completely accommodate disabled people while others have more limited facilities with ground floor rooms and wider doors to enable use of wheelchairs. Diving instructors with expertise for disabled persons are also available.
Time
The time in Aruba is Atlantic Standard Time. It is the same as Eastern Daylight Savings time all year round.
What to wear
For more information on what to wear, Aruba's weather and current weather forecast, please take a look at our Weather and Climate page.